Planning a Fourth of July BBQ? Here's What You Need to Know
Summer Means Cookouts! Summer is almost here, and that means, it's time to get the gang together and share your favorite BBQ recipes.
The biggest holiday of the season is the fourth of July.
It's a time to celebrate America's independence with friends and family. Many gather around the grill, crack open a few cold ones and enjoy each other's company. If you're hosting company for the big day, then you want to make sure you've got everything you need to have one stellar BBQ.
Key Things to Remember
When planning your bbq recipes, you want to make sure of a few things. First, make sure you have enough food. There's nothing worse than having more people than you thought to come over and finding out that you don't have enough food to feed them all. Secondly, have a variety of options. Not everyone likes burgers. Therefore, you'll want to have a different selection of main entrees like steaks, chicken, hamburgers, and hotdogs. That ensures that there's something for everyone. You'll also want to make sure you have enough side dishes and snacks to pass along while people are waiting for the food to cook.
Hot Dog and Brat Bar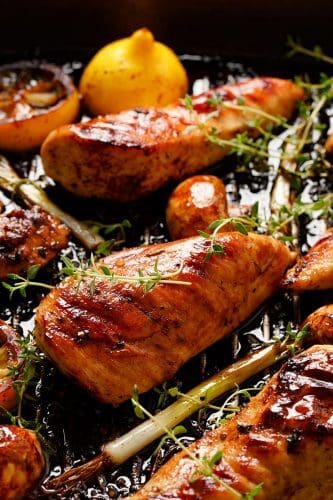 A great idea to please a crowd is to offer a hot dog and brat bar. All you have to do is grill up a batch of hot dogs, brats, and Italian sausages. The guests at your fourth of July bbq can help themselves to whatever they'd prefer. Then, set out different kinds of buns and toppings on a table so that people can go through and choose what they want. Don't forget to include the staples like ketchup, mustard, relish, onions, and jalapenos.
BBQ Chicken is a Staple
Many people forget about chicken when hosting their bbq's. Chicken is a staple for a family gathering. That's because it's so versatile and it's a popular choice among children. All you have to do is season your meat, grill it, and slather it with some bbq sauce. It can be served by itself or with a bun.
Hamburgers are a Crowd Pleaser
When looking for bbq recipes to please a crowd, you can't go wrong with burgers. Burgers have been a staple in BBQs for years. They're easy, can feed a crowd at an affordable price, and versatile. Burgers also pair well with a variety of sides from fresh veggies to dips, chips, and everything in-between.
Pay Attention to Quality
At the end of the day, the food you cook is only as good as the meat and vegetables that you buy. Purchase all your cookout needs at the Butcher Shop to ensure the best quality and freshness. Knowing where your meat and vegetables came from makes for better tasting food at your gathering. You and your guests will know the quality difference when you purchase from a butcher that you know and trust.