A good old-fashioned backyard BBQ is one of my favorite summer traditions. The warmer months can be a difficult time to get together with family and friends. With vacations, outdoor activities, and weekend trips, finding a time that works for everyone is sometimes a chore. That's why Independence Day is a great time to gather your loved ones!
Throw a BBQ
Hosting a backyard bash for those closest to you is a great way to honor traditions and unwind. Plan on a casual party with a simple menu; on a hot July day, no one wants food or an atmosphere that is too fancy. Decorate your outdoor space kids and adults alike will love the festive scene!
Plan outdoor activities to keep your guests having fun. Kids and kids-at-heart will love playing with water pistols and water balloons to beat the heat. A rousing game of baseball or frisbee is another great way to bond. Don't forget to buy sparklers to light up the night after dinner.
Serve Up An Amazing Menu
Traditional all-America foods are your best bet for your hot July gathering. Cheeseburgers, hot dogs, potato salad, and ribs are sure to please. Don't forget to take advantage of the season's cheap, fresh produce by serving up corn on the cob, tasty fruit salad, and sweet blueberry pie! While you're cooking the mains, have a variety of munchies out to keep your guests' bellies from growling. Chips with salsa, raw veggies, and plenty of cold drinks, along with great conversation and lots of laughs, should tide them over.
You can grab all the healthy, fresh locally-sourced ingredients you need for your menu at The Butcher Shop! From grass-fed meat to fruits and vegetables, it's a one-stop shop for feeding your hungry family and friends. Make the delicious cheeseburgers below to please all your guests.
All American Bacon Burgers
Adapted from Taste of Home
Total time: 30 minutes, makes 4 servings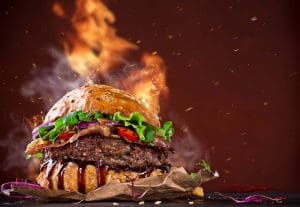 Ingredients
2 tablespoons finely-chopped onions
2 tablespoons ketchup
1 garlic clove, minced
1 teaspoon sugar
1 teaspoon Worcestershire sauce
1 teaspoon steak sauce
1/4 teaspoon cider vinegar
1 pound ground beef
4 slices sharp cheddar cheese
4 hamburger buns, split and toasted
8 cooked strips of bacon
Optional toppings: lettuce, sliced tomatoes, onion, pickles
Combine first 7 ingredients in large bowl. Crumble ground beef into bowl and mix well. Shape mixture into 4 even patties.
Grill burgers covered on medium heat for about 4 to 7 minutes per side, until internal temperature reaches 160 degrees. Top with cheese slices and grill another minute or until cheese is melted. Add burgers to buns and top with bacon and toppings of choice.