Choosing the perfect meat means paying particular attention to the high-quality, old fashion butchers who offer a variety of local, grass-fed meats, as well as fresh local vegetables for the side dish around town. In Southern Oregon, the perfect pick of meat can be found at The Butcher Shop. With January being the official "National Meat Month," it is a great time to stop on into the high-quality shop to pick up some meat, make the perfect marinade, and get grilling! Check out our Top 5 Most Delicious Marinade Recipes to perfectly prepare and cook your high-quality piece of meat.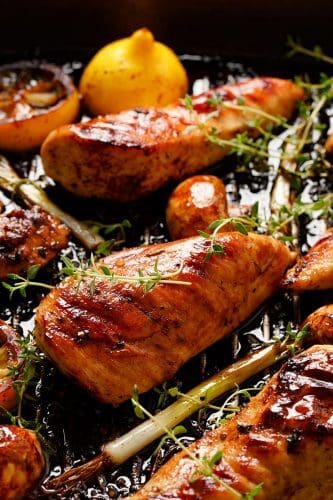 1. Classic Teriyaki Marinade
You really can't go wrong with a classic teriyaki marinade – especially this one, which has stolen the #1 spot on our list of tasty marinades. Working uniquely well with cuts of pork and poultry, this recipe only requires a few key ingredients: soy sauce, brown sugar, white vinegar, garlic, and green onions. After marinading your meat for a good, long while in this sauce, your guests will be coming back for seconds and thirds.
2. The Only Marinade You'll Ever Need for a Steak
This recipe is best for rib steaks, although it can be used as a delicious add-on to nearly any cut of meat. The marinade is a staple; a recipe every true meat-lover should have memorized and under his or her belt. With a Worcestershire sauce base and nice flavors of Dijon mustard and a zest of garlic, this marinade will satisfy the stomachs of any audience. It gives you the true feel of an outback barbecue to suit your fine selection of meat from the local butcher.
3. Zesty Lemon & Herbal Rosemary Marinade
This refreshing combination of lemon and rosemary surmounts to a sophisticated blend of flavors perfect for grilled chicken. Gather your ingredients of lemons, fresh rosemary, olive oil, salt, and pepper, and let your meat soak in this rich, herbal sauce for 1-2 hours. Being a light-flavored marinade is a recipe to surely please a crowd, especially at a barbecue in the early spring or before an athletic sporting event.
4. Tropical Jamaican Jerk Marinade
It's well known that Jamaican Jerk seasonings and rubs are notorious among the marinading world. This recipe, a mixture of a variety of fine ingredients such as onion, scallions, fresh thyme, nutmeg, and most importantly, Jamaican Pimento, is suitable for any meat, and vegetables, too. Soak the meats nice and long in this mouth-watering mixture for flavors that soak deep into the meat to give it a phenomenal taste.
5. Korean Sesame Bulgogi Marinade
One thing is for sure about Korea, and it is that Koreans know how to cook a piece of meat with absolute flavor. This favorite Korean marinade is usually cooked steak meat cut into thin strips, and served in a hotpot or on top of a bed of lettuce or rice. The flavors, made from ingredients such as sake, sesame oil, and soy sauce, will keep your taste buds tingling for days after eating your perfectly flavored piece of meat.
Don't wait – the perfect choices of marinade recipes are just at your fingertips! Now, all you need is to stop on by your local Oregon butcher, The Butcher Shop, and get grilling!