The lazy days of summer are in full swing and by now you have put your grill to good use for entertaining or quick family meals. Full of flavor and relatively clean, grilling is a great way to capture the flavor of a quality cut while avoiding unnecessary processing and unsavory ingredients. Here are some bbq tips and tricks that can make your experience easier and your end product as mouth-watering as you envisioned.
BBQ Tips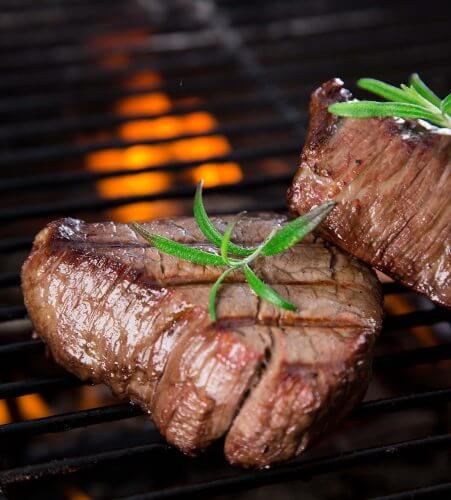 Gas versus charcoal is a classic battle, but the most suitable source is as simple as convenience and availability. If you really want that smoky flavor that comes from charcoal grilling, you will need a little more planning and expertise. Use direct heat for proteins and vegetables that cook quickly, in 30 minutes or less. For ingredients that require longer cook time, use indirect heat. For gas grills its as simple as turning your heat up or down. Invest in a charcoal chimney to help corral your briquettes and control your heat. Once charcoal ashes over you will need another 5-10 minutes for high heat and up to 25 minutes for medium heat.
Flavor Savers for Grilling Meat
Meats should rest before and after cooking to bring them to room temperature beforehand, and evenly distribute juices once cooking is complete. Keep marinade time to an average of 30 minutes to an hour unless you are dealing with a particularly thick piece of meat or if your intention is to make the marinade more prominent. Rubs should not be massaged into meats where they can compromise the natural grain and fibers of the cut. Kabob meats should be snug, but not squished to ensure even cooking while maintaining moisture. When it comes to grilling meats, look for locally sourced, grass-fed cuts like those found at The Butcher Shop. Consider this simple "Trifecta" rub to boost the rich flavor of your favorite hangar, flank or New York strip.
INGREDIENTS
1/2 cup garlic salt (use garlic powder if you are cutting back on sodium)
1/2 cup hot smoked paprika
1/2 cup light brown sugar
DIRECTIONS
In a storage container, add and shake all ingredients together until incorporated. Rub liberally on meat or hearty vegetables and marinate for 30 minutes to an hour before grilling. This rub can be stored in your sealed container for up to a month, longer if you freeze.
Picture Perfect
If you are a big fan of grill marks and that charbroiled look when grilling meat, pat your steaks dry prior to adding to high heat. Too much moisture and high heat steam the meat; not a pretty look on your prized rib eye. Keep fish and vegetables whole and appetizing by using a grill basket or pan. You won't sacrifice the flavor, but fillets will remain in tact and you avoid losing smaller veggies through your grate. Bear in mind, hamburgers have a tendency to puff in the center. By making the center of the patty thinner, you can keep your patty platform instead of puffing into the shape of a donut. Use your thumb or the back of a spoon and press down in the center. Adding toppings to your burger will be a cinch on a flat burger.
Experience is a great teacher when it comes to the grilling game. It's even better if you can learn various hacks from those who have already learned from their mistakes. The summer season may be halfway over, but these bbq tips will have you grilling like a pro year-round. For more mouth-watering recipes visit the https://butchershopinc.com/ or stop by The Butcher Shop in Eagle Point.