Do you want to try something new this year? How about making burgers? You could make traditional ground beef burgers, or you could try something completely different.   Ever fancied trying venison or kangaroo?  That might surprise your relatives, but why not stimulate their taste buds by giving them something different this year?  These delicious burger recipes can be made on the stove, baked or on the barbeque outside.
I'm sure the cooks amongst you know the higher the quality of the ingredients the better your food will taste but have you ever tried grass-fed meat? The taste will bowl you over, and although you might not be able to find it at your local supermarket you can find it at your local ButcherShop.Inc along with high-quality fruit and vegetables. Try it this Memorial Day!
Venison Burger Recipes
Venison has a unique smoky flavor, and so is often combined with beef. The exact combination is up to you, but here's one recipe that has already been tried and tested.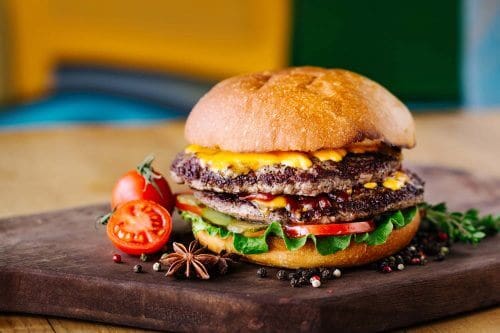 Ingredients (4-6 people)
1 lb of ground beef
1 lb of ground venison
1 egg
1 clove of garlic, minced
2 tbsp of barbeque sauce
1 tsp Italian seasoning
Method
Mix all ingredients thoroughly using your hands.
Shape into 4-6 patties and refrigerate for at least half an hour.
Heat a skillet or barbeque grill and cook for 4-6 minutes or until done
Serve with salad, in a bun, topped with your favorite barbeque sauce.
Kangaroo burgers with grilled camembert
Higher in protein, has less cholesterol than venison or beef, with only 2 percent fat.  Kangaroo meat is a healthy alternative to beef and venison.  Meat and cheese products can all be purchased at your local ButcherShop.Inc
Ingredients
2 lb of ground kangaroo meat
1 cup chopped onion
6 tbsps of parsley chopped
2 tsp fresh oregano
1 cup of breadcrumbs
2 eggs
2 yellow onions
2 camembert cheese cut into wedges
Mayonnaise
2 cloves of garlic
Method
Mix the breadcrumbs, eggs, ground kangaroo meat, chopped onion, oregano and 1 tablespoon of chopped parsley and salt and pepper to taste. Form into 8 burgers.
Mix mayonnaise, 2 tablespoons chopped parsley and the chopped garlic clove together in a small bowl.
Grill the burgers and turn them every 2 minutes to ensure even cooking. Thinner burgers will cook quicker, from 5 to 10 minutes.
Sear the onion slices on the grill then turn them and top with a piece of Camembert.
Put each burger with a Camembert-onion slice, and then sandwich with the bun