Memorial Day is coming up, marking the unofficial start of the grilling season. If you're planning a big outdoor cookout, your first instinct might be to throw some burgers and hot dogs on the grill and call it a day. But why serve up the usual cooked hamburgers when you can delight your guests with a delicious, juicy recipe that's packed with flavor? This Memorial Day, skip the hot dogs and serve up a batch of juicy grilled chicken that's guaranteed to leave a lasting impression.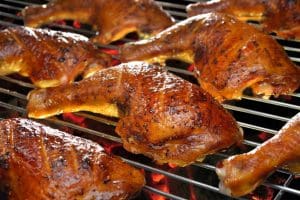 Soaked in a rich, hearty marinade, this grilled chicken is bursting with flavor. Ingredients include Dijon mustard, port wine, molasses, and Worcestershire sauce, all blending together perfectly to create a tangy marinade that puts a new spin on the traditional grilled chicken. This recipe is more time-consuming than throwing some chicken on the grill, as you'll need to soak the chicken in the marinade overnight–but once you take your first bite, you'll be glad that you did. This delicious recipe could easily become a new tradition at your house, one that your guests will look forward to year after year.
Need the Recipe?
Whether you're a beginner cook or an expert chef, this recipe is perfect for just about any skill level. Simply mix the ingredients, marinate the chicken, grill, and enjoy.
Ingredients:
Four 3-pound chickens
3/4 cup unsulphured molasses
1/2 cup olive oil
1/2 cup ruby port wine
2 tbsp Dijon mustard
2 tbsp soy sauce
2 tbsp ground pepper
1 tbsp Worcestershire sauce
1 shallot, minced
Sweet mustard barbecue sauce
Directions:
Remove the backbones of the chickens and cut the chickens into quarters.
In a large bowl, mix together everything but the chicken and barbecue sauce. Let stand for 30 minutes. Add the chicken and turn to coat evenly. Refrigerate overnight.
The next day, light the grill or preheat the broiler. Arrange the chicken on baking sheets and brush with the barbecue sauce. Grill the chicken over a medium-hot fire or broil 12 inches from the heat, turning often to cook evenly. Cook 8 to 10 minutes per side. Serve hot or at room temperature.
Looking for Ingredients?
If you need to restock your pantry, The Butcher Shop has everything you need. We carry only the finest ingredients, including local, grass-fed meat, fresh fruit and vegetables, and freshly baked breads. With a wide range of grocery items in stock, we're essentially your one-stop shop for healthy, sustainable meal ingredients. We buy our meats locally, meaning that you're not just supporting us–you're supporting farmers across the area. We even offer all-natural dog food so that you can provide a healthy diet for your pets. They're part of the family, too!
If you've got a delicious recipe that you want to try, stop in today and we'll help you find the right ingredients. Got questions about our products or preparation, or need help choosing the right dish? Talk to us anytime. We'd be happy to serve you.
Recipe source: http://www.foodandwine.com/recipes/grilled-chicken-sweet-mustard-barbecue-sauce