Summer is in full swing and grillmasters are suiting up in their aprons, arming themselves with their arsenal of grilling accessories and secret recipes to serve up at their next bbq. Why not throw a potluck and have your guests worry about the sides, while you serve up your pièce de résistance, hand cut bbq steaks from a good, old fashioned butcher?
Grilling Steaks with Perfection
A good cut of meat really requires very little seasoning, but if you are looking for a dish to wow your guests at your next bbq, give this recipe a whirl.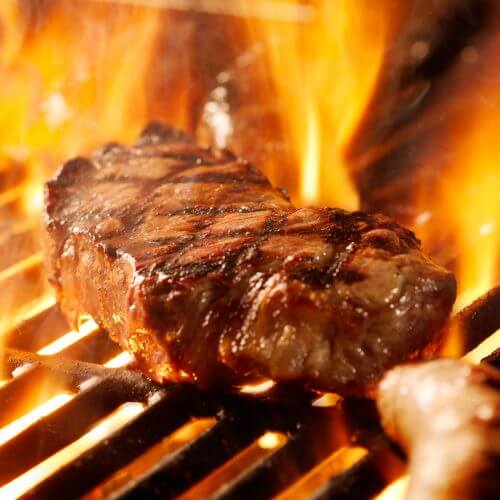 1 cup olive oil
1/2 cup Worcestershire sauce
3/4 cup soy sauce
1/2 cup minced garlic
1 medium onion, chopped
1/4 cup salt
2 tablespoons pepper
1/4 cup and 2 tablespoons steak seasoning
1/4 cup red wine
8 10 oz steaks
Combine the olive oil, Worcestershire sauce, soy sauce, garlic, onion, salt, pepper, garlic, steak seasoning, and red wine in a bowl and whisk. Separate the marinade into two gallon-sized kitchen storage bags.
Pierce steaks on one side with a fork, and add the steaks evenly to the two kitchen storage bags. Make sure bags are sealed tightly, lay flat on refrigerator shelf and marinade at least 4 hours, or overnight, turning the bag over occasionally to distribute the mixture evenly on the steaks.
Remove your steaks from the bags and discard marinade, while you prepare your cooking area. Allow 20-30 minutes, enough time to let the meat rest and reach room temperature.
Preheat grill to high heat, or light charcoal, and wait until coals are completely white and ashy, then cover for 15 minutes before adding your meat.
Sear steaks for about 5 minutes on one side, then adjust your heat to medium, flip steaks and grill for another 5-7 minutes for medium (140 degrees F) Adjust timing for thickness. When touched, the meat should have the same feel as tapping the tip of your nose.
Remove steaks and allow them to rest another 5 minute before serving with a side of fresh summer vegetables.
*Note: Add some color and dimension to your dish by grilling your vegetables alongside your meal. Simply toss chopped veggies in a light coat of olive oil, sprinkle with salt and pepper and grill to desired consistency.
Choosing the Right Cut
When using the recipe above, consider a beef tri-tip, which really absorbs the marinade flavors. If you are serving more than a few friends, consider sirloin, which is a more economical choice without sacrificing the novelty of grilling steaks. Ribeye or Delmonico steaks are great for meat lovers who enjoy marbling and the flavor the extra fat brings to a good cut of meat. And for those hosts who can spare no expense, impress your guests with a porterhouse, a combination of New York strip and tenderloin. Whatever your goal, you cannot go wrong by sourcing your meat and veggies from the freshest, finest purveyors, and you can never go wrong with The Butcher Shop!