Celebrate Spring with a Leg of Lamb for Easter
As winter comes to an end, get ready to celebrate Easter with a light, delicious leg of lamb that celebrates all the new, young goodness of spring.
Lamb is the classic Easter treat. Whether you opt for braised lamb shanks or a tender roast, bring out its full flavor with accompanying flavors like mint, raspberry, and fresh herbs. You'll have a dinner that's as bright and aromatic as the first fresh days of spring.
Here we offer a classic English-style roasted leg of lamb with seasonal vegetables. The recipe was inspired by one created by chef Jaimie Oliver. Pair it with a light, bright wine and don't forget to pick up your lamb, fruits, and vegetables from the Bucher Shop.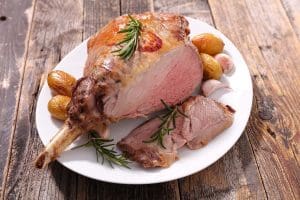 1 cup new green beans
3 cups new potatoes, cut into thick slices
1 small bunch fresh asparagus
2 zucchini, sliced into strips
Directions
1. Remove the lamb from the fridge at least one half-hour before cooking, to bring it to room temperature.
2. Preheat oven to 425 degrees.
3. With a sharp knife, make shallow cuts in 5 to 6 places on the lamb to score it.
4. Mix garlic, mint, salt, and pepper in a food processor or mash them together by hand. Add olive oil to this mixture to create a rub.
5. Rub olive oil mixture over the leg of lamb.
6. Roast the lamb for 1 1/2 hours, occasionally basting with leftover oil.
7. Remove the meat and set it aside to rest. Meanwhile, add the chicken stock to the fat left in the roasting pan and stir to create a sauce.
8. Place the potatoes in a large pot of boiling, salted water and cook for five minutes. Add the fennel and carrots and continue boiling for another five minutes. Add remaining vegetables and cook five minutes more. Strain all the vegetables.
9. Carve the lamb and serve it with the vegetables. Top with sauce if desired.
Best Bets for Pairing
Soft, warm dinner rolls dotted with fresh butter are the perfect accompaniment to this delicate meal.
End your Easter meal with a celebration of spring fruits.
Blueberries
Cantaloupes
Figs
Nectarines
Papayas
Pineapples
Cherries
These are all bright, sweet fruits that would mix well together in a fruit salad topped with homemade whipped cream.
Traditional Easter desserts include strawberry tarts, lemon cake, and coconut cream cake. Any of these would be the perfect ending to this meal.
A New Season
Say hello to a new season with a delicious Easter meal. Afterward, enjoy braised lamb, roasted lamb, and broiled lamb chops throughout the year. Don't forget to pick up everything you need right here at the Butcher Shop.