Lamb is the classic protein to be the centerpiece of an Easter dinner table. A roasted leg of lamb, crusty on the outside and rosy pink on the inside is a holiday favorite. Have us butterfly the leg and remove the bone. Have the bone wrapped up to take for making a big pot of healthy broth.
Along with your lamb, roast some root and spring vegetables to have on the side. Creamy fleshed potatoes, rutabagas, and fennel are good options. Here is a version of oven roasted lamb that is adapted from a Tyler Florence recipe.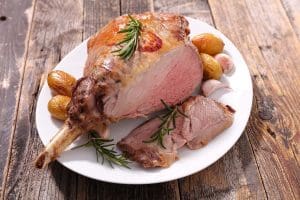 Roasted Leg of Lamb with Root Vegetables
Ingredients for the Vegetables
1-1/2 pounds Yukon gold potatoes, cut into 1" pieces
1-1/2 pounds rutabaga (swede), peeled and cut into 1" pieces
3 pounds fennel bulb, cut into 1" wedges, stalks removed, fronds saved
Cloves of 1 head of garlic
Extra virgin olive oil
Sea salt and pepper to taste
Ingredients for the Lamb
6 pound butterflied leg of lamb
4 cloves of garlic, minced
1 TBS fresh rosemary leaves, roughly chopped
1 TBS fennel fronds, chopped
1 TBS fresh thyme leaves, chopped
Extra virgin olive oil
Sea salt and pepper to taste
Directions
Preheat oven to 350 degrees F.
Take the boneless leg of lamb and open it up. Rub the inside with olive oil, salt, pepper, herbs, and garlic.
Cut the leg in half where the muscles naturally separate. Roll each piece up into 2 smaller roasts and secure with kitchen twine. Rub the outside with olive oil, salt, and pepper.
In a large skillet, preferably cast iron, sear the meat, turning to brown evenly all over.
While the meat is searing, arrange potatoes, rutabaga, fennel, and garlic on a sheet tray or roasting pan that has a rack to go over the vegetables. Sprinkle with salt and pepper. Drizzle with EVOO. Place into the oven on the lower rack.
Once the meat is browned transfer the roasts to the oven by placing them directly on an oven rack or roasting rack above the fennel and potatoes.
Roast for 35 to 40 minutes until lamb is medium-rare. Rest the meat for 10 minutes before cutting.
Serve with roasted vegetables, a side salad of young spring greens, and a crusty loaf of bread.
If you are feeling adventurous, you can make a tzatziki sauce with yogurt, cucumber, lemon, and mint to serve with the lamb. Here is a simple recipe that you can make ahead.
How to Buy Your Protein
For a large cut of lamb, it is a good idea to call your butcher in advance of the holiday and order exactly what you want. An experienced butcher will be able to tell you how much you will need and when the best time is to pick it up for optimal freshness.
Be sure to ask your butcher to butterfly the leg and to save the bone for you to make broth. He can saw the bone into smaller pieces if you prefer.
Inquire about the source of the lamb. It is great if you can get locally farmed, pasture raised protein for your Easter feast. The flavor will be amazing and the meat will be lean.