This time of year it seems the question starts to rise, instant pot or slow cooker. Let's take a minute to compare these two household appliances. Is there really a need for both in your kitchen? Should you choose just one? Let's take a minute to compare the instant pot with the common household appliance: the slow cooker or crockpot.
Here a few reasons an instant pot may be better than the slow cooker
If you want to cook a meal in very little time without a lot of planning
Here's the most significant difference between the instant pot and the slow cooker. One is slow, and one is fast or "instant." With an instant pot, you can cook a meal in around an hour or less where a crock pot typically takes at least 4 hours. With the instant pot, you can be relatively unprepared until say 6:00 pm. You get home from work with a nice cut of beef for stew and still eat a delicious, tender meal by 7:00 pm. With a slow cooker, no such luck.
Multi-use- It can replace several different appliances
The Instant Pot can be used for multi uses. It can be used as a pressure cooker for canning, a steamer, a rice cooker, a yogurt maker, and even a warming dish. If you're going to use it as a yogurt maker, I would highly suggest that you deodorize the silicone ring on the inside of the lid after each use to prevent it from absorbing food odors like garlic or onions that can transfer from the delicious stew you made last night to today's yogurt. You can safely wash it on the top rack of your dishwasher. You can also order an additional silicone ring online that you can set aside just for your yogurt.
How it works
The instant pot doesn't allow steam to escape during the cooking cycle thus retaining the moisture and pressurizing the pot. Food cooked under pressure cooks faster. The moisture in a slow cooker is not contained. It leaks out slowly through the lid while cooking providing less moisture overall, and a longer cooking time. One of the downsides of slow cooking is that vegetables tend to lose their nutritional value at temperatures over two hundred degrees during an extended period of heat. If you're going to use a slow cooker, for nutritional reasons you are better to cook it for eight hours than four because of the lower temperatures.
One of our favorite recipes is an old-fashioned pot roast with potatoes and carrots.
For a great meal in about an hour follow this simple recipe.
Ingredients: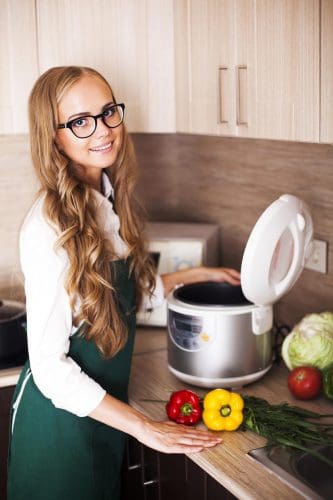 3 lb beef roast (stop by the Butcher Shop and select your favorite roast)
salt and pepper to taste
2 Tbsp. olive oil divided
2 c. beef broth
1 pkg onion soup mix
1 yellow onion, quartered
1 lb. baby potatoes
1 c. baby carrots
2 c. mushrooms
Instructions:
Sprinkle roast with salt and pepper and set aside.
Saute chuck roast with 2 Tbsp. Olive Oil (Some instant pots have a saute cycle". When the oil is hot, add the roast to the pot and sear for about 4 minutes on each side. (If your instant pot doesn't have a saute cycle, simply saute it in a pan and then add it to the instant pot.)
Add 2 cups beef broth to your instant pot.
Next distribute vegetables evenly around the roast and add onion soup mix
Place lid on the instant pot. Make sure your steam valve is closed.
Set instant pot for 60-80 minutes on "high" pressure.
Do a natural release for at least 10 minutes; then you can quick release if it is not done releasing the steam.
Use extra drippings to make gravy or au jus.