Four Easy And Quick Dinners
With the holiday season soon around the corner and the number of things that need to be done before the new year, our days tend to get a little more hectic than usual. People celebrating during this season have to start preparing their plans of action, go out shopping for gifts, cleaning their homes and so on. In the midst of all the chaos and things that one needs to do, having to cook all of your meals can start to be a bit of a task in itself. So many of us spend hours and hours in the kitchen, trying to prep up something that they and their families would like. While this may be ideal for the rest of the year, having to spend that amount of time in the kitchen when you have many other things to do is not ideal. In this case, you may consider opting for quick dinners that require an extremely minimal amount of prep time, all while still being delicious and healthy.
Still confused about what meals to choose which don't require you to invest hours of effort? We have compiled a list of dishes that stay true to this, just to make your holiday season a little easier and to give you time to do the things that you need to do.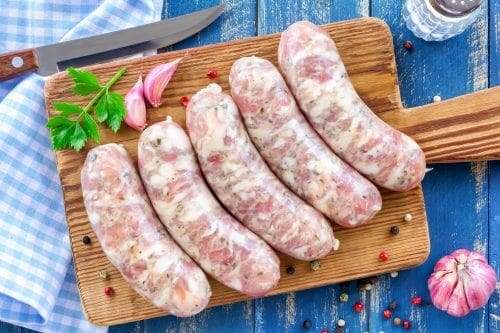 Macaroni with Sausages and Tomato Relish
Making some or the other form of pasta is one of the best things one can do to save time and still prepare a delicious meal. Use a store-bought relish or tomato puree to avoid spending time making the sauce. If tomatoes aren't your preferred flavor, opt for any other sauce like pesto or alfredo sauce. You can get the link to the recipe here.
Spicy Honey Garlic Salmon With Rice
Fish is one of the easiest things to prepare when you are short on time considering that it doesn't take too long to cook. Preparing salmon with a side of garlic rice is quick dinners option it is simple and requires no planning to make. In addition to being a meal that one can prepare fast, it is also extremely healthy, given that the rice is had in accurate proportions. Get the recipe here
Baked Chicken Pecorino
Baking usually takes a considerable amount of time, but not with this easy and quick dish. The chicken needs to be coated with the right coating and baked for a short twenty minutes before it is ready to be eaten. Serve it with a side of spinach and other veggies, and you have a healthy and quick meal ready to go. Get this delicious recipe here.
Ham Stuffed Potatoes
Ham stuffed potatoes are again another quick dinners option because of the ease of preparation and no prep time. Just scoop out the middle of a boiled potato and fill it with ham and cheese. Top it up with a few veggies and garnish, bake it for around ten minutes, and you have a delicious, well-balanced meal that everyone will love and want more of. Get this easy recipe here.