There are so many ways to use leftovers from a Thanksgiving feast. For example, mashed potatoes, sweet potatoes, cranberry relish, creamed onions, green veggies, stuffing, biscuits and of course, turkey and gravy are enough ingredients to make leftover recipes for the rest of Thanksgiving week.
Never Toss Mashed Potatoes Again. They're great for leftover recipes
Mashed potatoes can be made into three other leftover recipes: potato dumplings, potato cream soup, and gnocchi.
Potato Dumplings Recipe
Ingredients:
1 1/2 cups mashed potatoes leftovers
1/2 cup fresh chopped chives (reserve 1/8 cup for garnish)
1 tablespoon fresh chopped parsley
1 teaspoon baking powder
1/4 teaspoon olive oil
1 1/2 to 1 3/4 cups all-purpose flour
salt and pepper to taste
4 cups chicken or turkey broth
Directions:
Blend all ingredients until batter is slightly thicker than pancake batter. Add flour as needed. The batter should be sticky. Bring broth to a boil and drop batter by tablespoons batter into boiling broth. Dumplings rise to the surface when done. Serve in bowls with broth and garnish with remaining chopped chives.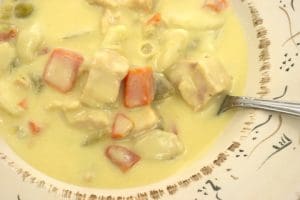 Potato Cream Soup
Ingredients:
1/4 cup minced onion
1/3 cup cubed carrots
1 tablespoon parsley
1/4 cup diced celery
1/2 cup leftover gravy
3 cups leftover mashed potatoes
2 cups heavy cream
2 cups whole milk
1/4 cup white wine
3 tablespoons olive oil
salt and pepper to taste
Directions:
Sauté onions, carrots, celery, and parsley in olive oil until tender. Blend heavy cream, milk, white wine and leftover gravy until smooth. Do not boil. Cream and milk tend to change in flavor when boiled. Add in leftover mashed potatoes and sautéed vegetables. Stir until smooth and creamy. Serve with a dollop of sour cream in each bowl. Garnish with a sprig of fresh dill or toasted crouton (see recipe below.)
To make croutons from leftover bread, lightly grease a cookie sheet. Cut bread into cubes and sprinkle with garlic or onion powder. Bake at 375 deg. Until golden brown.
Gnocchi
Ingredients:
1 1/2 cups all-purpose flour
2 cups leftover mashed potatoes
1/4 cup Parmesan cheese
dash of olive oil
salt and pepper
Directions:
Blend flour and mashed potatoes in a large bowl. Add in Parmesan cheese, olive oil, salt, and pepper. Mix well to combine all ingredients. Blend until mixture holds together. Usually, mashed potatoes provide sufficient liquid to create gnocchi dough. If needed, add a dash of milk.
On a floured surface, shape dough into a ball, and cut into four sections. Roll each section into long ropes. Using a sharp knife or pizza slicer cut 1/2″ "pillows" from each rope. Using a fork tine, press top of each gnocchi pillow lightly. Toss into boiling water until they rise to the surface. Serve with favorite Italian tomato or Alfredo sauce.
Quick and Easy Tetrazzini
Blend turkey with a jar of pre-made Alfredo sauce. Boil linguine al dente and drain. Blend Alfredo sauce mixture into linguine.
More Thanksgiving Leftover recipes
Add leftover cranberry relish to cranberry bread recipes. Add creamed onions to soups. Marinate leftover green veggies to add to salads. Turn leftover biscuits into mini peanut butter, jelly and thinly sliced banana "muffins."
Find your turkey at The Butcher Shop in Eagle Point along with locally sourced meat and vegetables.