Autumn is a time for savoring. It's that season bursting with freshness as we gather in the summer's crops and prepare our cupboards and land for winter's bitter breeze. We inhale the air's accompanying crispness and savor the vividness of time as greens age into golds and oranges. New possibilities and hope invite us back into classrooms as the school year begins. We gather in our cable knits to watch the fields alight with the colors of our gridiron favorites, and banter about the season's goals and fouls.
With summer's heat behind us, we look to the kitchen to cook up welcoming fare for family and friends. Fall recipes are bold and warm; they cloak us in comfort and insulate from the chill. A crockpot is an excellent way to combine the season's flavors; it simmers and absorbs while we tend to other things.
Crockpot Recipes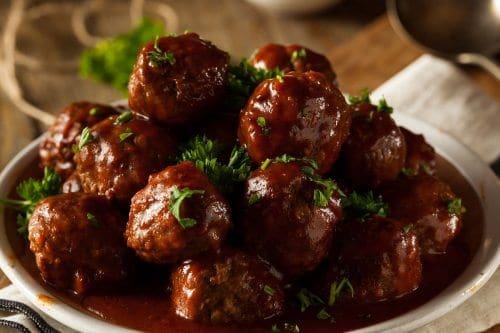 Crockpot recipes aren't just about stews – they're as varied as your imagination allows. The one constant, however, is quality. Why not add a little spice to your buffet table with Karen's Slow Cooker Chicken Fajitas? Fall recipes can be savory without being fussy, and more enjoyable when you have time to visit with family and guests. With a slow cooker, you just combine the ingredients and set it to cook on either low or high, depending on your timeframe. Let this hearty dish sit as the centerpiece to your colorful and easy spread of condiments.
The next time you're friends invite you to a potluck, why not try out Slow-Cooker Sticky Thai Meatballs? This fall recipe requires a couple of additional steps rather than just combining all the ingredients, but the extra effort is sure to be a crowd pleaser.
Crockpot Desserts???
What's for dessert? If you've delegated Sunday's oven to the family favorite, pot roast, but want to top off the meal with a memorable sweet, a slow cooker is just the right appliance. What's the right recipe? Slow Cooker Reese's Peanut Butter Cup Swirl Cake comes easily to mind, as it will with your fans on future events. Let Betty Crocker and your kitchen be the answer to the family sweet tooth. Sit back and enjoy with a cup of coffee.
Crockpot recipes are the perfect accompaniment to all your autumn events. With shorter days and less time to spend in the kitchen, they provide easy, full-flavored meals that even the most discerning pallet will appreciate. Savor the warm aroma of a full-cooked meal the next time you walk into your home. For more mouth-watering recipes visit the https://butchershopinc.com/ or stop by The Butcher Shop in Eagle Point.