It's game day. You throw on your team colors, turn the television on, and settle in to watch your team kick some butt. Your friends come over to help cheer on the team, drink some beer, and argue over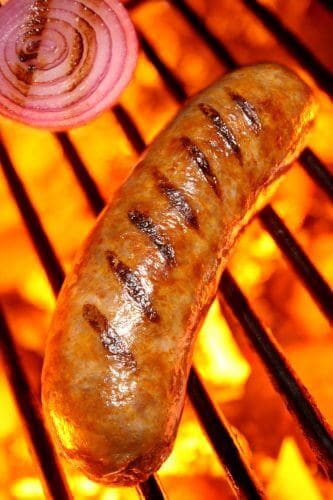 whose Fantasy Football team will win it all this year. It's the perfect game day –but there's one thing missing. Food. Amazing, greasy, food that sticks to your ribs and goes great with a nice cold drink. Don't panic. The following game day recipes have you covered and are so easy that you will still have time to finish grilling and watch pregame coverage.
Get Your Snack On Need something to snack on while you're waiting for all the delicious food to finish cooking? MidwestLiving has you covered with their Caramel Snack Mix. The recipe mixes rice cereal, nuts, and a homemade caramel together for the perfect blend of sweet and salty. You definitely won't be able to stop snacking on this, so double or even triple up on the recipe. Place a bowl down on the coffee table and watch your friends go to town on this amazing snack mix!
Amazing Appetizer Your list of BBQ ideas definitely requires an appetizer. This Brat Roll Tailgate Appetizer will have your taste buds screaming in delight and your friends begging for more. The appetizer consists of chopped bratwursts, cheese, onions, and spices stuffed inside pre-made pizza dough. It takes less than 30 minutes to make and yields about 16 slices – so you'll have no excuse not to share with all your game day buddies!
Ribs and Rings. No game day recipes list would be complete without some amazing grilling recipes. And meat. Lots of meat. Try this Grilled Spare Ribs with Barbecue Sauce recipe from Martha Stewart. All you need to do is wrap the ribs in tin foil, smother them in barbecue sauce, and throw them on the grill. Super easy. Super delicious.
Now that you have ribs on the barbecue, it's time to find something to pair it with. We suggest Smoked Bacon-Wrapped Onion Rings from Grilling 24×7. There is no way you can go wrong with bacon, right? These onion rings are to die for. Raw onions covered with Sriracha hot sauce and wrapped in thick bacon. Need something to dip them in? Use this Sriracha mayo burger sauce. Still, need some more BBQ ideas? Head over to The Butcher Shop! We have everything you need to make game day a success.