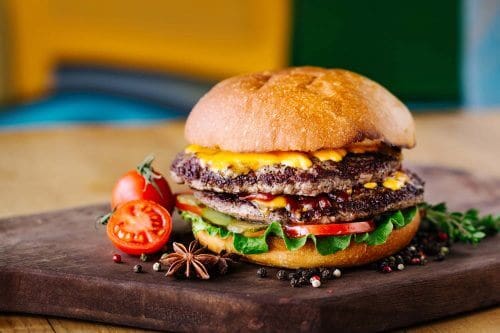 If you're the kind guy (or girl) that spends a lot of time in your backyard, you have three opportunities during the year to prove mastery of your Barbecue Grill. The first is Memorial Day, the kickoff to summer, where you're just trying to remember how to cook a basic hamburger and hot dog. The second is the Fourth of July, the high water mark of summer vacation, where you are out to prove you're the burger king for the extended family, not some commercial actor with a weird-looking character head. The last is the Labor Day BBQ, where you can show your family, you're not just the king, you're a chef.
Quality Grilling Recipes Use Quality Food
The Butcher Shop in Eagle Point, is the place to buy the quality meats and vegetables you need for masterpiece grilling recipes. To make a great burger, The Butcher Shop can set you up with ground sirloin for your family BBQ, several large sweet onions and a few ears of corn, perfect for this time of year.
Grilled Sweet Onions
4 Large Sweet Onions Butter, Salt & Pepper
Hollow out the top of the center of the onion to about 1/3 of the way down. Then stuff a tablespoon of butter inside with a dash of salt and pepper mixed in. Wrap them in aluminum foil and throw them on the grill for an hour. This onion you can eat with a knife and fork. You don't need to add anything to it.
Grilled Corn 
4 Ears
Nature made corn to be cooked on the grill; it already has the cooking sleeve around it. Cut off the stalk at the bottom end and soak the ears in water for 30 minutes. The water ends up releasing the natural juices in the corn. Cook for 20 to 30 minutes keeping a watch on the husks to keep them from burning.
Family BBQ Nirvana: Jalepeño Pimento Cheese Burgers
1½ pounds of ground sirloin
½ cup of wheat germ
1 pkg. Onion soup Mix
¼ cup ketchup
¼ cup water
1 cup pimento cheese
Sliced jalapeño peppers
Shredded iceberg lettuce
Thinly sliced tomatoes
Pretzel Buns
It's the big Labor Day BBQ! Go ahead and make those burgers thick, beautiful and juicy, mixed with the wheat germ, onion soup mix, ketchup and water. Pop it onto the grill for five minutes on each side and high heat. At that point, spread pimento cheese on top of each of the burgers and let it melt, between 1 and 2 minutes. Open up the pretzel bun and top it with the shredded lettuce, sliced tomato, the burger and the sliced jalapeño.
Put those burgers on a plate with an ear of corn and a juicy, buttered onion and your family will think there's nothing you can't do with your spatula and a fired up Barbecue Grill. Happy Labor Day!