The Super Bowl is practically a national holiday at this point, let's be honest. One of the best ways to celebrate this manliest of holidays is with meat! Burgers are great and wings are a Super Bowl tradition, but if you want to be the one taking a trip to Disney World at the end of the game try our ribs recipe.
How to Get Bowl Winning Ribs
The key to delicious ribs is always quality meat. Ribs are a cut of meat where quality is apparent right away. High quality, organic, locally produced ribs that are properly butchered and trimmed allow your cooking skills and this great recipe to show through. No amount of smoking or sweet, sticky barbecue sauce can compensate for a bad cut of meat. Our baby back ribs are locally produced and butchered right here in our shop. This recipe is smoky, sweet and just a little bit spicy but the ribs aren't drenched in sauce.
Super Bowl Baby Back Ribs Recipe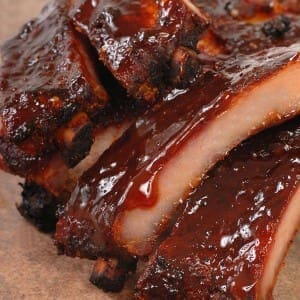 Serves 8
Prep time 18 hours
Actual cook time 2 1/2 hours
Ingredients:
2 full racks baby back ribs
Kosher salt
6 tablespoons BBQ rib rub of choice
1/2 cup orange juice
1/3 cup honey
1/3 ketchup
1/2 margarita mix liquid
1 tablespoon Worcestershire sauce
Cayenne pepper to taste (less than 1/2 teaspoon)
Prep Your Ribs:
Place ribs on enough foil to create foil pouches around them. Season both sides liberally with salt and half the rub on each rib. Fold the pouches around the ribs. Refrigerate meat side down on a sheet pan overnight.
The Next Day:
Heat your oven to 250 degrees. Mix the orange juice and the margarita mix and pour half the mixture into each packet by opening one end, then resealing it. Cook the ribs for 2 hours. Drain the braising liquid into a saucepan. (At this point you can drain the braising liquid and refrigerate the liquid and ribs for up to 8 hours.)
After cooling remove the solidified fat off of the top of the braising liquid. Heat liquid over medium heat. Add honey, ketchup, Worcestershire sauce and cayenne pepper to taste. Whisk over heat until well combined and thickened about 10 minutes. Reduce heat to low and cover. Do not let glaze come to a boil.
Preheat your gas grill to medium heat for 10 minutes. Cut the slabs in half and place meat side down. Close the lid and allow to cook for 3 minutes. Flip ribs and cook for an additional three minutes. Repeat this process at least once, cooking for three minutes on each side again until ribs have a nice char. Remove ribs from grill and cut into individual portions of two ribs each. Divide glaze in half, and toss rib portions in the glaze. Serve remaining glaze on the side.