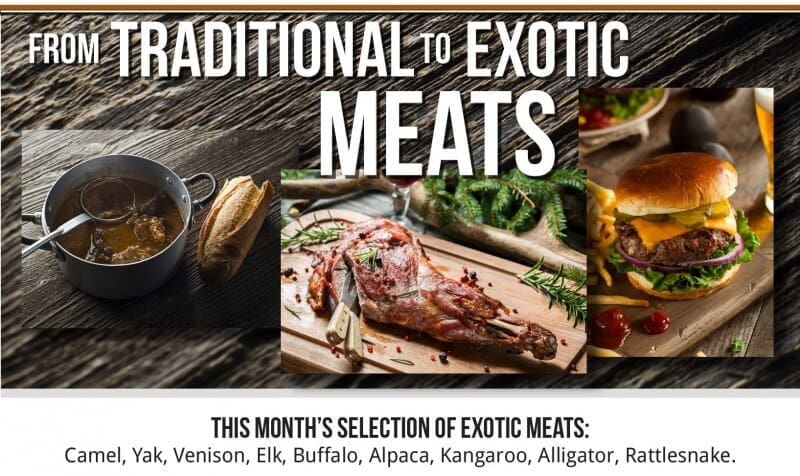 Well, The Butcher Shop on Shasta Ave. has what you want. We know that you love your regular grill favorites but if you have had your fill of burgers and dogs on the grill, it's time to shake things up a little with our exotic meats. We offer all kinds of meats, from traditional to exotic. But it's our exotic meat that's getting all the attention this month thanks to a feature article appearing in Southern Oregon Magazine about The Butcher Shop and our fine, exotic meats.
Curious to know more? Think we just mean venison and elk? Well, we offer those too, but we also sell camel, yak, buffalo, alpaca, kangaroo, alligator and rattlesnake! As with all our other meats, we source it locally, carved by skilled butchers who specialize in quality cuts and cured meats. You can count on our meats to be:
Natural
Chemical free
Free range sourced from local farmers*
Available for full processing farm animals and game, thanks to a fully mobile processing unit
Alpaca Stuffed Peppers
Now that you're thoroughly in the mood for exotic meat, let's try a recipe with alpaca meat as the staple.
What you'll need:
1  lb  alpaca  meat, minced
1  cup  chopped  spinach
½  cup  leeks
3  tbsp  butter
1  tsp  garlic
4 red peppers
Crushed  red  chili pepper, salt and pepper to taste
Cheese of your choice
How to prepare:
Cut the  tops  off  the peppers and take out seeds.   Rinse out peppers and put upside  down  on  paper towel to dry. Grab your frying  pan and put it on low  heat to melt  the  butter,  then add  in the leeks.  Add the  garlic,  minced  alpaca,  crushed  chili pepper, salt  and  pepper, stirring constantly. When the meat is brown, turn off and add in the spinach. Combine. Stuff  the mixture into each pepper.  Top  with  cheese and bake in the oven for about a half hour. Enjoy!
For traditional and exotic meats, come to The Butcher Shop in Eagle Point for an unforgettable experience. And don't forget to read our feature in Southern Oregon Magazine!
*Locally sourced when possible. Camel, Yak, and Kangaroo isn't exactly native to southern Oregon.