How delicious do shrimp, corn, potatoes, and sausage sound?  These are the perfect ingredients for a shrimp boil, but who wants to cook these all on a hot summer day?  There's a much easier way to make this southern classic, and it just might become your favorite labor day meal for friends and family.  With just a few steps, you can make this easy shrimp boil on the grill without heating up your house.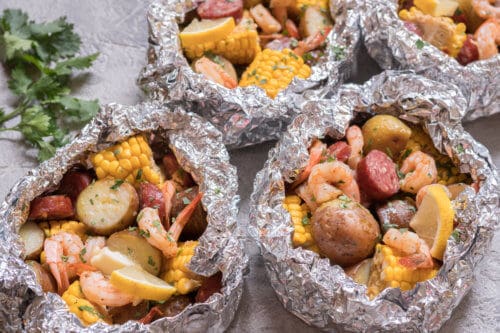 If you're from the South, you're probably familiar with their traditional shrimp boils.  Known as Frogmore stew, Lowcountry boils, and Beaufort boils, they all include shrimp, sausage, corn, and potatoes.  Traditionally, these meals require a large pot of boiling water and a huge table to dump it out on.  Our recipe, on the other hand, is incredibly simple to make and serve.
Ingredients for four servings of shrimp boil on the grill:
1 ½ pounds TBS 16-20 shrimp (or another large size of shrimp will do), cleaned and deveined.

2 TBS smoked andouille sausages, sliced

2 cloves of garlic, minced

2 ears of corn, cut into 2-inch chunks

1 pound mini potatoes, cut in half

2 tablespoons of olive oil

1 tablespoon Old Bay seasoning

Salt and pepper  

2 tablespoons of freshly chopped parsley

1 lemon, sliced into wedges

8 tablespoons of butter
Directions:
 Preheat the grill to high heat.

 Prepare four pieces of foil, about 12 inches long.

 Divide the shrimp, garlic, sausage, corn, and potatoes over the foil sheets.  Drizzle the olive oil over each and sprinkle with Old Bay seasoning, salt, and pepper.  Scoop each setup and toss gently to combine.  Add a bit of parsley, lemon, and butter on top of each.

Fold and cinch the foil packets around the ingredients.  Roll the edges closed.  

Place the packets on the grill for about 15 to 20 minutes until fully cooked.

Serve immediately.
The Butcher Shop is the Best Place for Fresh Fish and Seafood!
We receive ocean-fresh seafood shipments on Mondays, Wednesdays, and Fridays.  When you bring home seafood from TBS, you can rest assured it will go from being caught to served on your plate within 24 hours.  Along with seafood and meat, TBS is your source for locally grown produce, fresh bakery items, and other specialty grocery items.  Stop by today and see what's in store for your best meals!