Fresh shrimp makes a delicious, light summertime dinner.  This seared honey garlic shrimp recipe is easy to prepare and tastes amazing.  The combination of sweet honey and salty soy sauce is a perfect contrast to enhance the sweetness of fresh shrimp.  
Never deveined shrimp before?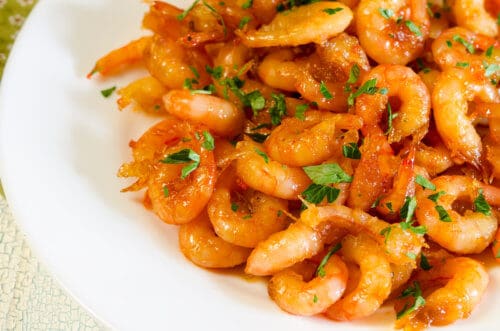 Don't worry!  You got this.  Frozen shrimp is usually peeled and deveined, but if you're enjoying fresh shrimp, you may need to do it yourself.  Here's how it's done:
Peel the shrimp.  Remove the shell by starting at the top and peeling around to the end of the tail.  You choose whether or not you want to remove the tail.

Cut alongside the vein.  Use a paring knife to make a ¼-inch deep cut alongside the dark vein on the back of the shrimp.

Remove the vein.  Use the tip of the knife to scrape out the dark vein carefully.
Ingredients:
1 pound fresh TBS shrimp, peeled and deveined.  Jumbo/16-20 count size works best.

2 cloves of garlic, minced

2 tablespoons local honey

½ teaspoon freshly grated ginger

1 tablespoon soy sauce (use Tamari Soy Sauce if you need something gluten-free)

1 teaspoon fish sauce

¼ teaspoon crushed red pepper flakes

2 teaspoons olive oil

1/2 cup green onion, thinly sliced
Directions to make seared honey garlic shrimp:
Make the marinade.  Whisk together the garlic, honey, ginger, soy sauce, red pepper, and fish sauce in a large mixing bowl.

Add in the shrimp and make sure the marinade coats the shrimp.  Cover and refrigerate for 30 to 60 minutes, tossing occasionally.  Do not over-marinate the shrimp.  If it soaks for more than an hour, the soy sauce will cure the shrimp and change its texture.

Heat a large non-stick skillet on high with olive oil.  Place the shrimp onto the skillet carefully in a single layer.  Keep the excess marinade.

Sear the shrimp for 2 minutes.  Flip each over.  Pour in the marinade and cook for one more minute.  

Turn off the heat and flip each one more time.  Allow them to sit for 1 minute.  The marinade will turn into a glaze.

Serve shrimp and the glaze over your choice of rice or noodles.  Garnish with the green onion.
The Butcher Shop is the Best Place for Fresh Fish and Seafood!
We receive ocean-fresh seafood shipments on Mondays, Wednesdays, and Fridays.  When you bring home seafood from TBS, you can rest assured it will go from being caught to served on your plate within 24 hours.  Along with seafood and meat, TBS is your source for locally grown produce, fresh bakery items, and other specialty grocery items.  Stop by today and see what's in store for your best meals!