In a pinch for tonight's dinner? Spaghetti is always an easy meal to prepare for a family due to the sauce being the most "intricate' part of the dish, and the key ingredient is patience. Here is a super simple mostly hands-off meaty spaghetti sauce for whatever dish you want to top it off with. 
While this Italian style spaghetti sauce recipe calls for ground beef, feel free to experiment and change that ingredient to any other of our meat products we have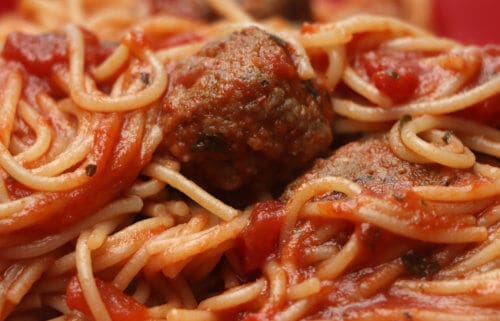 available. This will just add an extra step of cutting the meat down to the desired size for your sauce. 
Italian style spaghetti sauce  Ingredients
½ – 1 pound of TBS Ground Beef  

1/3 – ½ cup of olive oil

1 chopped celery stick

½ teaspoon oregano leaves, crushed

1/8 cup chopped parsley

½ teaspoon basil leaves, crushed

½ teaspoon salt

2 cans crushed peeled tomato (28 oz.)

1 can tomato paste (16 oz.)

1 chopped onion

1 minced garlic clove
Directions:
Heat olive oil in a large saucepan.

Add the chopped onions and heat them to a light brown then add oregano leaves, chopped parsley, and basil.

 Add the ground beef and brown the meat

then add salt and the Minced Garlic.

 

After the meat is well browned,

add the 2 cans of crushed, peeled tomatoes. 

Cover and heat (medium heat)

for about 15 minutes, then add the can of paste, stirring and mixing well.

 Add in your celery stick.

 Cover and cook on low

for about 2 ½ to 3 hours; Add in one 8 ounce can of water toward the 2-hour mark and stir well. 
Find everything you need for a quick and healthy dinner at The Butcher Shop.
We know preparing healthy meals for your family is important. That's why The Butcher Shop always carries locally sourced meats and produce from farms right here in Southern Oregon.  At TBS, you'll find the perfect cut of meat for your meal, plus fresh-baked loaves of bread, fresh fruit and vegetables, local wine and beers, and even quality food specifically for your canine.  Stop by today or call ahead to pre-order your ingredients.