No, steak pizzaiola is not a recipe for making a bougie-style pizza at home.  Instead, this is a delicious, easy-to-make steak recipe that will fill your home with aromatics and get those stomach growling.  
Otherwise known as carne alla pizzaiola, the origins of this dish likely come from a Sicilian recipe using beef shoulder for the meat.  Other ingredients, however, point to Naples, Italy as the origin of the recipe.
Why is it called pizzaiola if it's not pizza?  Think of one of your favorite parts of pizza–the sauce.  While there are many variations, one consistent characteristic of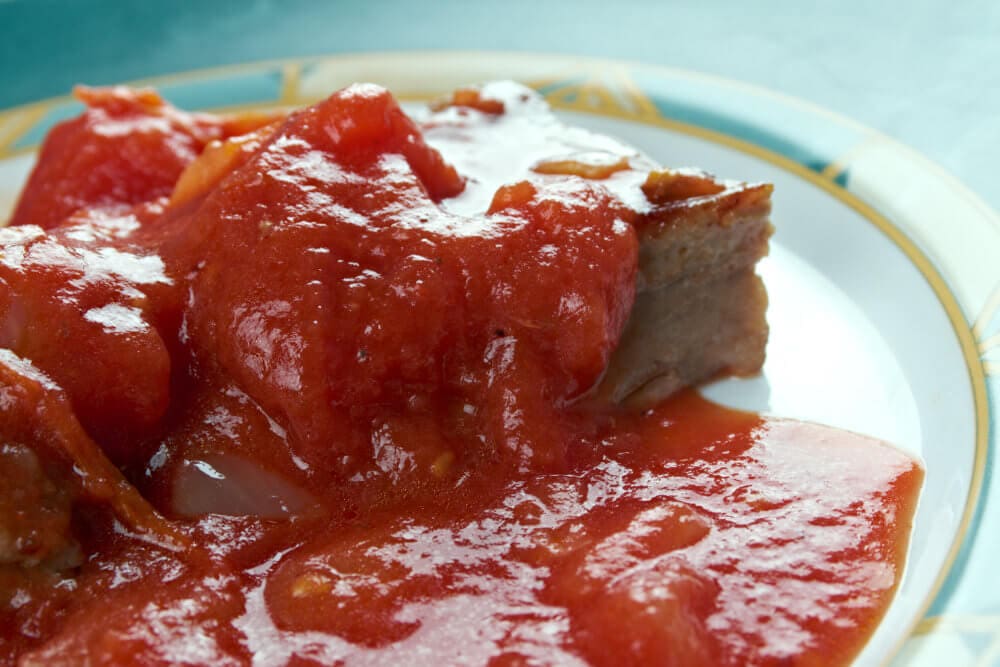 pizzaiola is the rich tomato and oregano sauce accompanying a braised cut of beef.  
Ingredients
1 ¼ pound TBS boneless sirloin steak

3 tablespoons of olive oil

½ teaspoon salt, divided

3 garlic cloves, minced

1 yellow onion, chopped

3 bell peppers (1 red, 2 yellow), sliced

4 jarred pepperoncini peppers, sliced

1 15-ounce can of crushed tomatoes

½ cup dry white wine (or chicken broth)

½ teaspoon dried oregano

½ teaspoon dried basil

⅛ teaspoon red pepper flakes

2 tablespoons fresh parsley, chopped
Directions
Season each side of the steak with ¼ teaspoon of salt.  Heat the olive oil in a deep skillet over medium.  Cook the steaks on each side for about 2 minutes until they turn golden brown.  Remove the steaks to a plate and set them aside.

Using the same skillet, saute the onions until they begin to turn translucent.  Add the bell peppers and garlic and continue to saute them until they are well softened.

Add the tomatoes, pepperoncini, red pepper flakes, oregano, basil, and ¼ teaspoon of salt and stir to mix.  

Add the white wine and stir well.  Simmer uncovered on low for 10 minutes.

Place the steak into the top of the sauce and continue to simmer for another 10 minutes.

Remove the steak and allow it to rest for at least five minutes.  During this time, place a cover on the sauce and allow it to continue simmering.  

Slice the steak against the grain.  Serve on plates covered with the sauce and sprigs of fresh parsley.
What can you serve with steak pizzaiola?  There are many options, and it depends on what your family likes best, such as spaghetti, focaccia, polenta, and rice.
Stop by The Butcher Shop for the Freshest Meats and Local Produce
Why purchase meat and produce from a grocery store that comes from who knows where?  We have such excellent, fresh meat and produce available to us locally!  The Butcher Shop is your one-stop shop for locally sourced meats and produce from farms right here in Southern Oregon.  At TBS, you'll find the perfect cut of meat for your meal, plus fresh-baked loaves of bread, fresh fruit and vegetables, local wine and beers, and even quality food specifically for your canine.  Stop by today or call ahead to pre-order your ingredients.