Grab-and-Go Mini Frittata Breakfast Muffins
Easter's coming up, and that means there's a very good chance you will have leftover ham you need to use up.  One brilliant solution is to make these easy grab-and-go min frittata breakfast muffins.  Your family can enjoy them at their leisure as they are easy to reheat in the microwave or toaster oven.  Refrigerate leftovers with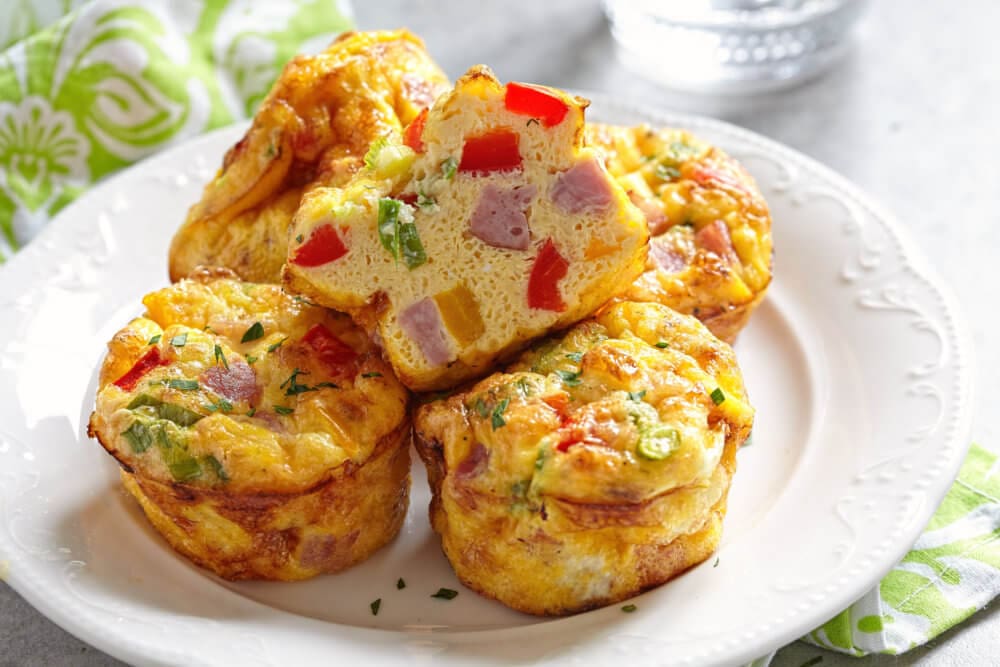 wax paper between layers for a leisurely grab-and-go breakfast throughout the week.
For this recipe, you'll need two mini muffin tins (those with 24 little cups.)
Ingredients:
About ½ cup of leftover TBS ham, finely chopped

Nonstick vegetable oil cooking spray

8 large eggs

½ cup whole milk

½ teaspoon ground pepper

¼ teaspoon salt

⅓ cup parmesan cheese, freshly grated; and 2 tablespoons fresh parsley, finely chopped, OR 1 cup cheddar cheese, grated; and 3 tablespoons fresh chives, minced.

Optional:  ¼ cup leftover vegetables, finely chopped (green beans, asparagus, corn, broccoli, etc.)
Directions:
Preheat the oven to 375F.

Spray the muffins tins well with nonstick cooking spray.

Whisk together the eggs, milk, pepper, and salt in a large bowl.

Stir in the ham, choice of cheese, selection of herbs, and vegetables.  

Use a ladle to fill the muffin cups.

Bake for about 8 to 10 minutes or until the mixture puffs and feels set in the center.

Immediately remove from the tins and place on a serving platter.  Cover with foil to keep warm.  
If you have regular size muffin/cupcake tins, you can make larger frittatas.  Fill each of the regular-sized muffin cups about ¾ of the way full, and then bake for 22-25 minutes until they begin to puff and feel set in the center.
Find all the best locally sourced meats and produce at The Butcher Shop
One of the best parts of living in Oregon is having access to fresh and delicious meats and produce.   That's why The Butcher Shop always carries locally sourced meats and produce from farms right here in Southern Oregon.  At TBS, you'll find the perfect cut of meat for your meal, plus fresh-baked loaves of bread, fresh fruit and vegetables, local wine and beers, and even quality food specifically for your canine.  Stop by today or call ahead to pre-order your ingredients.