If you think "Andouille" sounds French, you're absolutely right.  Andouille is a traditional Cajun pork sausage, often used in recipes like jambalaya and gumbo.  Many Andouille sausages come pre-cooked, but if you purchase them uncooked, it's simple to prepare them with the directions below to use in your favorite recipe.  
The taste of Andouille sausage will vary depending on who makes it.  Most have a smoky, rich flavor that stands up well in soups and casserole dishes.  However, you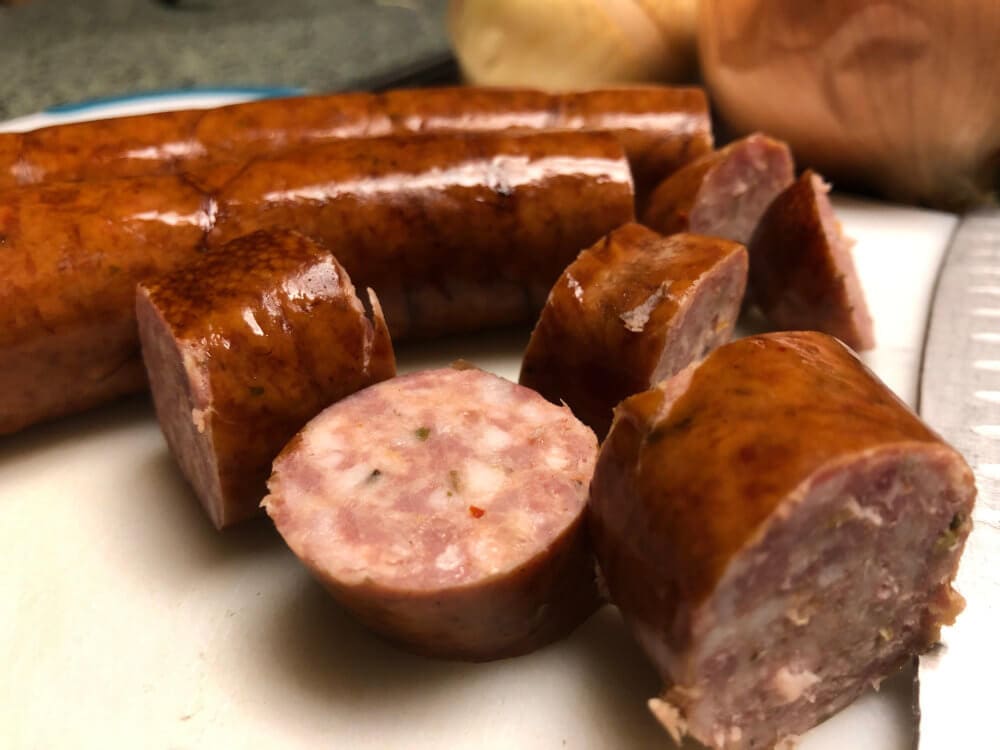 should always discuss the taste with your specific butcher, as some are produced with more cajun spices than others, giving them a bit of heat.  If the sausage at your butcher is too spicy, you can always substitute another type of sausage that you prefer more into this recipe.  
Ingredients:
1 pound of fully cooked

TBS andouille sausage

, cut into ⅛ inch slices

1 medium sweet onion, chopped

¼ of a green bell pepper, seeded and finely chopped

3 tablespoons plus 4 cups of water

2 cups dried lentils, rinsed

2 15-ounce cans of tomato sauce

2 14.5-ounce cans of stewed tomatoes

¼ cup packed dark brown sugar

¼ cup Worcestershire sauce

¼ cup red wine vinegar

2 tablespoons chili powder

3 garlic cloves, minced

Optional sides to serve on top when plated:  sour cream, avocado slices, or cilantro
Directions:
In a large skillet, saute the sausage, onion, green pepper, and 3 tablespoons of water until the onions and pepper become caramelized (about 6 to 8 minutes).

Remove from the heat and transfer to a 5-quart slow cooker.  Add all of the remaining ingredients and stir to combine.  Put the lid on the cooker and cook on high until the lentil beans become tender (about 8 to 10 hours.)
Have an electric pressure cooker?
If you have an Instant Pot or another brand of an electric pressure cooker, you can make this same recipe much faster.  Here are the easy directions:
 Set the pressure cooker to "saute" on medium heat.  Cook the sausages, onions, and peppers with 3 tablespoons of water until the vegetables become caramelized (about 6 to 8 minutes.)

Add all the remaining ingredients and stir to combine.

Lock the pressure cooker and set it to cook on high pressure for 15 minutes.

When it is done, allow it to release naturally for 10 minutes, and then quick release the remaining pressure.
Is the Andouille sausage you purchased uncooked?  
No problem!  It's easy to cook the sausage before making the chili.  One of the easiest ways to prepare them is pan-fried.  Slice the sausages first.  Next, heat a non-stick skillet over medium.  Add the sausage slices and cook them for about 8 minutes, turning them over occasionally to heat both sides.
Stop by The Butcher Shop for the Freshest Meats and Local Produce
Why purchase meat and produce from a grocery store that comes from who knows where?  We have such excellent, fresh meat and produce available to us locally!  The Butcher Shop is your one-stop-shop for locally sourced meats and produce from farms right here in Southern Oregon.  At TBS, you'll find the perfect cut of meat for your meal, plus fresh-baked loaves of bread, fresh fruit and vegetables, local wine and beers, and even quality food specifically for your canine.  Stop by today or call ahead to pre-order your ingredients.