Valentine's Day is right around the corner, and while you may want to prepare a delicious meal for you and your loved one to enjoy, no one wants to spend all day cooking.  Shrimp Alfredo Fettucine is one dish that always impresses but is simple to cook is Shrimp Alfredo Fettucine.
Four Tips to Achieve the Perfect Shrimp Alfredo Fettucine
To make a super flavorful shrimp alfredo fettuccine that's cheesy and melts in your mouth, there are just a few key concepts to be aware of.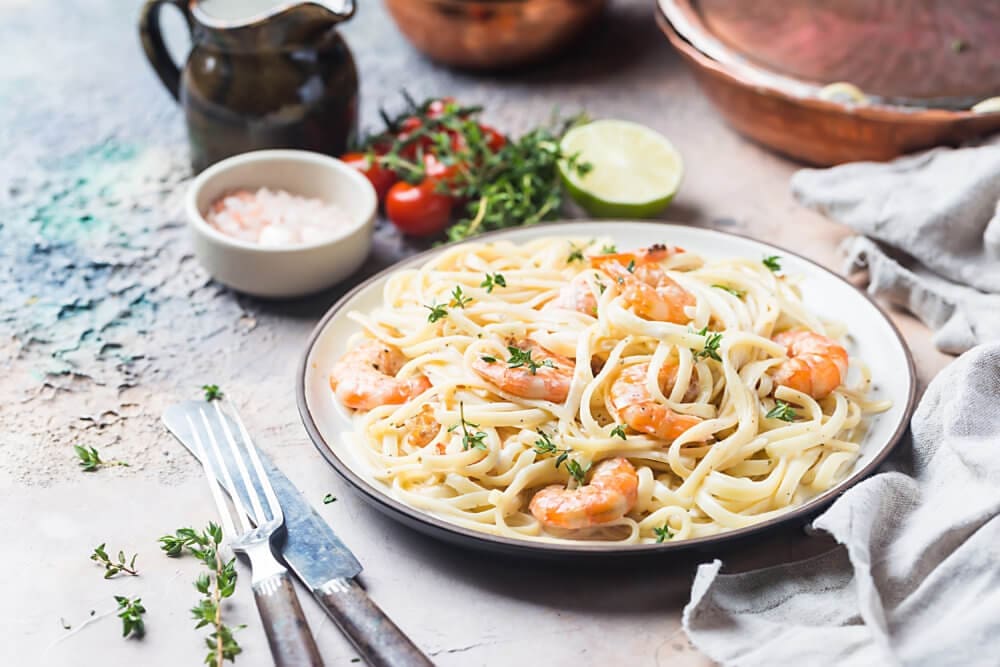 Don't overcook the pasta.  With a recipe like this, pasta is cooked (boiled) in water and then placed in the sauce on the stove to finish cooking.  That means that you should cook the pasta only to al dente in the boiling water to avoid it from becoming mushy in the sauce.  One trick you can use is to subtract about 3 minutes from whatever the recommendation is within the directions on the package of pasta.
Don't overcook the shrimp.  Shrimp can become overcooked in an instant, so you have to keep a sharp eye on them.  Overcooked shrimp are rubbery and won't taste very good.  Depending on the size of the shrimp and the heat from your stove, it's possible to cook shrimp in as little time as a minute.  Once you put the shrimp in the pan, watch for when they turn from translucent gray to opaque pink.  Take them off the heat and set them aside as soon as that happens.  Keep the juices in the pan for your pasta sauce, though!  The flavor will make the sauce more delicious!
Don't curdle the sauce.  Since you'll be adding an egg to a heated sauce, it's important to follow precise steps to avoid the egg from cooking (aka "curdling.").
Add the flour first,
Next, add cold milk and cream,
Last, add your egg yolk and whisk it immediately.
Don't skimp on parmesan.   Do not pick up one of those green cylinders of parmesan from the pasta aisle at your big box store.  Purchase a parmesan that has been freshly grated (often available in the deli), or better yet, buy a block and grate it yourself.  Freshly grated parmesan has much more taste and will make the sauce creamier.
Ingredients:
1 pound of TBS shrimp (call ahead to pre-order), peeled and deveined, and with tails removed.
About a pound of fettuccine, cooked to al dente (see advice above.)
3 tablespoons of butter
Salt and pepper to taste
2 cloves of garlic, minced
2 tablespoons of all-purpose flour
1 cup heavy cream
½ cup whole milk
1 egg yolk
1 cup of freshly grated parmesan cheese
A little chopped parsley for garnish if you like it
Directions:
Cook the pasta according to the package's directions, but subtract about 3 minutes for an al dente result.  Save a cup of pasta water to thicken your sauce.
Melt one tablespoon of butter in a large skillet over medium heat.  Add the shrimp and cook just until they turn pink and become opaque.  This will only take about 2 to 3 minutes per side.  Salt and pepper as desired.  Remove the shrimp from the skillet and set it aside.
Using the same skillet, add 2 tablespoons of butter and saute the garlic for about a minute.
Whisk in the flour, and cook for about 2 minutes.
Stir in the heavy cream and milk.
Whisk in the egg yolk and bring the sauce to a low simmer.
Finally, whisk in the parmesan.
Once it has melted and the sauce has thickened, add in the cooked pasta and shrimp.  Toss to combine.
And there you have it, simple and easy shrimp alfredo fettuccine.  Pair with a Pinot Grigio and Sauvignon Blanc, or if you prefer a red, go with a Gamay or Merlot.
Make Your Valentine's Dinner Delicious with Fresh Meats and Produce from The Butcher Shop.
We receive ocean-fresh seafood shipments on Mondays, Wednesdays, and Fridays.  When you bring home seafood from TBS, you can rest assured it will go from being caught to served on your plate within 24 hours.  Along with seafood and meat, TBS is your source for locally grown produce, fresh bakery items, and other specialty grocery items.  Stop by today and see what's in store for your best meals!