Upper Michigan is home to a large population of European immigrants–many of which came to work in the abundant mining operations throughout the state.  The yooper pasties were a lunch favorite of miners from Cornwall, England.  Employees packed their pockets with these hot meat and potato pies wrapped in foil to keep warm in the mornings and then serve as a heated lunch mid-day.  The popular lunch item spread quickly to mining families throughout the region. Although most mines are now closed, it remains a favorite grab-and-go meal in Upper Michigan today.
This recipe combines the ingredients of a traditional Yooper pasty with the delicious crust of its not-so-distant cousin, the Swedish meat pie.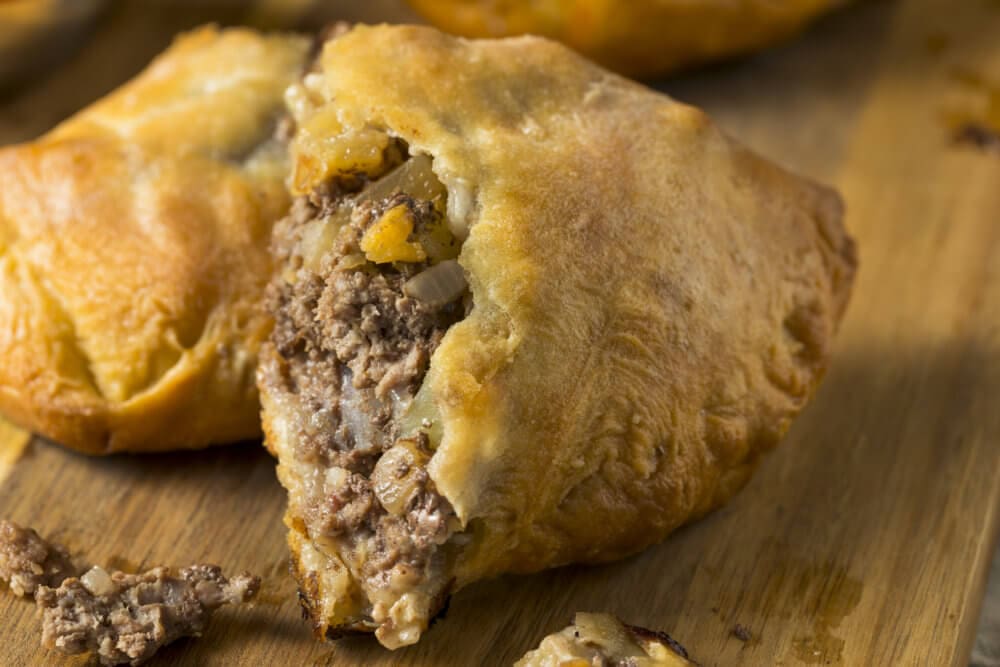 Ingredients for the Crust:
2 cup butter, softened
1 1/2 cup sour cream
4 cups flour
1/4 teaspoon table salt
Directions for the Crust:
Mix the butter and sour cream together until smooth.  Gradually add the flour and salt, mixing until all the ingredients are smooth.  Wrap the dough in plastic wrap and refrigerate for about an hour until the dough becomes firm.
Ingredients for the Filling:
1 pound TBS ground sirloin or ground chuck
4 cups Yukon potatoes, peeled and cubed
1 cup sweet onion, chopped
½ cup rutabagas, chopped
2 teaspoon salt
½ teaspoon pepper
Directions for the Filling:
Combine all the ingredients in a very large mixing bowl.  It's easiest to blend the ingredients with your hands.
Directions to Make the Yooper Pasties:
Use a ball of dough about 2 ½ inches in diameter.  Roll the dough into an oval shape on a cutting board to about ¼ inches thick. Add about 1 cup of the filling onto half of the oval.  Fold the other half of the oval over the filling.  Crimp the edges together.
Once all your pies are assembled, place the pies on a baking sheet lined with parchment paper.  Bake at 375 F for 45-50 minutes.  Allow pies to cool slightly before serving.  Be sure to offer your guests ketchup for their pies!  Wrap extra pies in foil or freezer-safe bags, and freeze for a future meal.
Stop by The Butcher Shop for the Freshest Meats and Local Produce
Why purchase meat and produce from a grocery store that comes from who knows where?  We have such excellent, fresh meat and produce available to us locally!  The Butcher Shop is your one-stop-shop for locally sourced meats and produce from farms right here in Southern Oregon.  At TBS, you'll find the perfect cut of meat for your meal, plus fresh-baked loaves of bread, fresh fruit and vegetables, local wine and beers, and even quality food specifically for your canine.  Stop by today or call ahead to pre-order your ingredients.