A Bolognese Sauce That Clings to Your Pasta
Don't get me wrong.  I look forward to a traditional turkey at Thanksgiving and all the leftover meals that come after it.  But once I'm done with leftovers, I want something completely different.  For me, that usually means a warm and hearty pasta dish.  This bolognese sauce is a simple, hearty pasta dish that is delicious and requires little time for preparation. sauce
How do you make a sauce that clings to your pasta?
The secret behind a pasta sauce that sticks to the noodles is grounded in science.  It requires a gradual combination of three types of ingredients:  fat, starch, and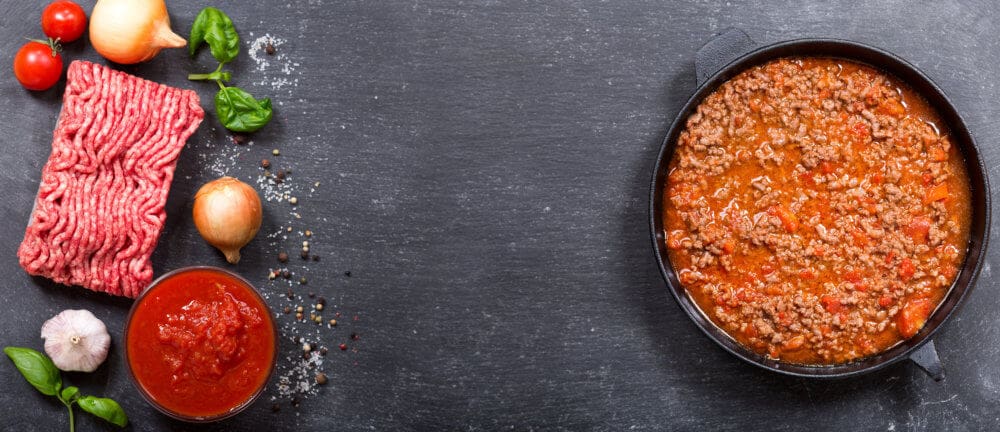 acid.  The act of combining these ingredients is called emulsification.  Here's how it works.
First, there's no reason you need to cook a sauce from scratch.  If you have the skills and the time, great.  If not, look for a jarred tomato sauce that is rated well for clinginess.  Here's a resource from New York Magazine to help you out:  "The Best Jarred Tomato Sauce, According to Chefs."
However, regardless of the jarred sauce you have, there's a simple process you can do to increase the clinginess factor.
Starch:  After you cook your pasta, reserve a cup of the water you cooked it in.  This water is filled with valuable starch that you can use with your sauce.  You might not need a full cup of it, but it's better to reserve too much than not enough.
Fat:  You'll need up to 2 tablespoons of cold, refrigerated butter.  Don't take it out ahead of time.  You want to use it straight from the fridge.
Acid:  The acid comes from the tomatoes in your sauce.
After you've cooked your noodles, strain them and then use the same pot to work your tomato sauce.  For every 3 ounces of noodles, you should add about half a cup of tomato sauce into the pot and warm it up to a gentle simmer.  You want it just to bubble a little.  This agitation helps with the emulsification process.
Next, add in a half tablespoon of butter and constantly stir until it's well mixed.  Keep adding half tablespoons of butter until the sauce is thick.  You should be able to run a spoon through it and see the bottom of the pan before the sides cave in.  For ½ cup of sauce, you shouldn't need more than 2 tablespoons of butter.
Finally, add the noodles back into the pot and mix the pasta and the sauce vigorously.  It's this emulsification that will thicken the sauce by extracting more starch from the pasta.  If it gets too thick, you can use some of the reserved pasta water to thin it.  If you add too much water, keep cooking it until some of the water evaporates, and it gets back to a thicker consistency.
Bolognese Sauce Recipe
Here's how we can use that same process to enhance a bolognese recipe:
Ingredients:
16 ounces rigatoni pasta, cooked
16 to 20 ounces of jarred marinara sauce (about 2 to 2 ½ cups)
1 pound TBS lean ground beef (90/10)
½ cup sweet onion, chopped
½ teaspoon Oregano
½ teaspoon Italian seasoning
Olive oil
½ cup pecorino Romano cheese, finely grated
1 stick of refrigerated butter, kept in the refrigerator
Salt and pepper to taste
Chopped fresh parsley for garnish
Directions:
Prepare pasta according to package directions.  The water should be salted well.  Make sure to reserve at least a cup of water before you drain the noodles.
While the pasta is cooking, prepare the meat.  In a skillet over medium heat, saute the onions in 2 tablespoons of olive oil until they become translucent.  Add the ground beef, oregano, and Italian season and cook until browned.  A deeper brown color means it will have more flavor.  Drain excess oil/fat from the meat and set it aside.
Prepare the sauce.  Add about 2 to 2 ½ cups of sauce to the pot you used to cook the noodles and bring it to a low boil/warm simmer.  Add in ½ teaspoon of cold, refrigerated butter, and constantly stir until mixed.  Continue adding ½ teaspoon of butter at a time until the sauce is thickened.  You shouldn't need more than a stick of butter for this but only use as much as you need to thicken the sauce.
Add your noodles back into the pot with the thickened sauce and stir vigorously.  The sauce will continue to thicken.  Use a little of the reserved water to thin it down as needed.  Turn the heat down to a low simmer.
Stir in about ¼ cup of pecorino cheese and a tablespoon of olive oil.
Add in the cooked meat and stir until fully incorporated.
Serve immediately with extra pecorino romano cheese on top and garnish with the chopped parsley.
Find everything you need for a delicious and healthy dinner at The Butcher Shop.
We know preparing healthy meals for your family is important.  That's why The Butcher Shop always carries locally sourced meats and produce from farms right here in Southern Oregon.  At TBS, you'll find the perfect cut of meat for your meal, plus fresh-baked loaves of bread, fresh fruit and vegetables, local wine and beers, and even quality food specifically for your canine.  Stop by today or call ahead to pre-order your ingredients.