Turn Your Leftovers into a Delicious Breakfast: Turkey Frittata
Frittatas are a great way to use up your holiday dinner leftovers.  Just about you can use any leftovers to create a hearty breakfast to energize your guests for another day of holiday festivities.
You can easily add or replace ingredients within the frittata based on the leftovers sitting in your refrigerator.  The basic formula for a frittata is eggs + onion + meat + vegetables.  As long as your egg mixture and meat/vegetable mixture are about equal in size, your turkey frittata should work.
Below is a standard recipe to start with, but get creative!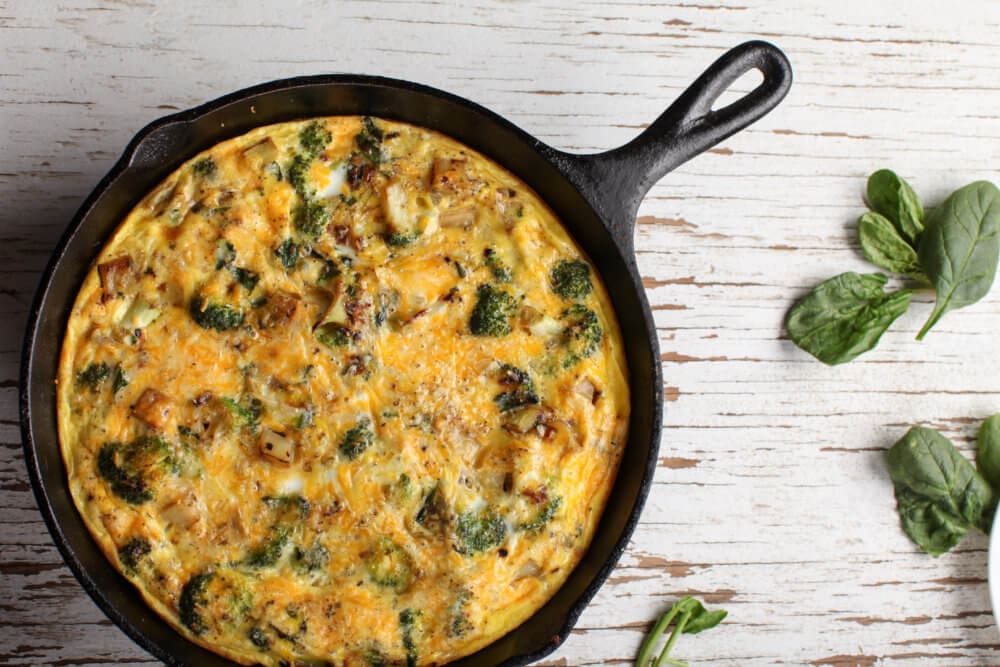 Ingredients:
8 eggs (2-3 eggs per person)
½ cup of milk or cream
1 cup shredded smoked gouda (or another cheese you like that you have in the fridge.)
¼ teaspoon pepper
½ teaspoon salt
2 tablespoons of olive oil
½ cup shallots or green onion, chopped
¼ cup green peppers, chopped
2 cups shredded Brussel sprouts (pre-cooked).
1 cup green beans (pre-cooked).
2 cups leftover turkey, shredded or chopped
Turkey Frittata Directions:
 Preheat your oven to 350° F.
 Using a 10-inch oven-safe skillet, heat 2 tablespoons of olive oil over medium heat.
Add your shallots or onions and the green peppers, and allow them to cook until they begin to soften.
While the onions and peppers are cooking, whisk together the eggs, milk, salt, and pepper in a bowl.  Mix in about ½ of the grated cheese. Set aside.
Add your choice of vegetables, and leftover turkey to the skillet.  Cook until everything is warmed through.
Stir in the egg mixture.  Cook on the stove just until you see the edges begin to pull away from the pan (about 5 to 7 minutes).  Add the remaining grated cheese to the top.
Transfer the skillet to the oven and bake for 16 to 18 minutes.  You'll know the frittata is done when it no longer appears wet.  If you push slightly on it, the frittata should feel cooked.  If it feels like a water balloon, it needs to cook longer.
You can broil the frittata on high for about a minute to brown the top if desired.
Allow the frittata to set and cool slightly.  Frittatas are best served warm but not hot.
For a little extra creativity, mix some leftover cranberry sauce with dijon mustard to make a tangy dipping sauce for the frittata.
Get Inspired At The Butcher Shop
Let us make it easier for you!  The Butcher Shop is your one-stop shop for everything you need to cook a Thanksgiving dinner to remember!  Whether your family prefers turkey, ham, lamb, or seafood, we've got you covered.  Plus, all of our meats are locally sourced, so your guests will enjoy the freshest food at your dinner party.  Simply give us a call at 541-830-3369 or visit our store in person to pre-order everything you need for your special dinner.