One of my favorite go-to meals in the winter is soup or stew made in the Instant Pot.  They are easy to make and create a delicious aroma that warms the atmosphere throughout my home.  One of my favorites is Split Pea and Leek soup since it also serves as an excellent way to use leftovers from other dinners like Thanksgiving or Christmas.
The secret to this recipe is the leek.  It adds onion flavor to your soup and also thickens it.  If you've never cooked a leek before, here's what you need to know.  You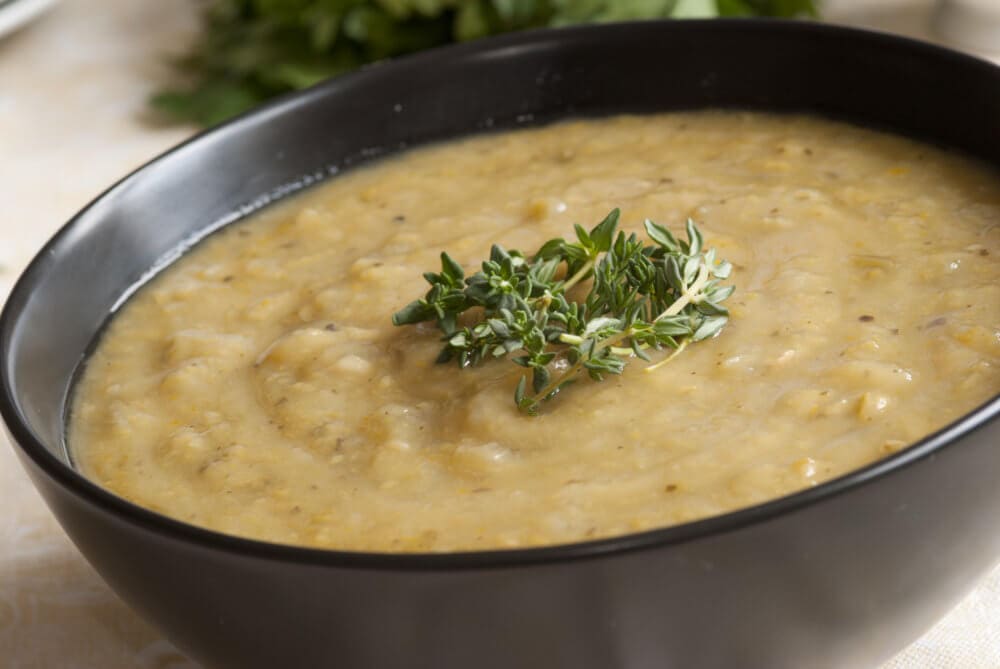 can find them in most grocery stores, and they are often bundled in two's or three's.  You only need one that's about 1 ½ inch in diameter.  Cut off the bottom ½ inch where the roots are and then cut off the green where it starts to split into leaves.  Wash the remaining section underwater.  I usually cut the remaining section in two, split it down the middle, and then chop it into one-inch chunks.  The leek will peel and separate.  Once you cook it, these layers will almost wholly dissolve.
Ingredients Split Pea and Leek Soup:
6 cups chicken broth
5 sprigs of thyme or 1 tablespoon of dried thyme
About 1 cup of diced or shredded leftover (cooked) ham or turkey
2 tablespoons unsalted butter
3 stalks celery, chopped
3 carrots, chopped
1 large leek, cut crosswise and then chopped into inch-long chunks
3 cloves garlic or about 1 tablespoon of prepackaged minced garlic
2 cups dried green split peas
¼ teaspoon pepper
½ teaspoon salt
Optional: pita chips or bread to serve on the side.
Directions:
Turn your Instant Pot or another similar pressure cooker to saute.  Pour in the chicken broth and add the thyme, butter, meat, all the vegetables, garlic, salt, and pepper.  Cover the Instant Pot and allow everything to heat (about 5 minutes).
Rinse the split peas well in a colander or strainer.  Add them to the Instant Pot.
Secure the lid on the Instant Pot and make sure the steam valve is closed.  Cancel the saute function and select high pressure.  Set the timer for 15 minutes.
When the Instant Pot has concluded its cooking, perform an instant release to release the pressure.
Open the lid, and stir the contents.  The soup will look brothy at first, but after you stir it, the leaks will disintegrate and give your soup a thicker consistency.  If the soup is too thick, you can thin it down with a cup or so of water.
Serve immediately and enjoy.
Shop The Butcher Shop:
The Butcher Shop is your one-stop shop for everything you need to cook a Thanksgiving dinner to remember!  Whether your family prefers turkey, ham, lamb, or seafood, we've got you covered.  Plus, all of our meats are locally sourced, so your guests will enjoy the freshest food at your dinner party.  Simply give us a call at 541-830-3369 or visit our store in person to pre-order everything you need for your special dinner.