Brrrr!  The nights are starting to take on that cool chill?  Rainy, cooler weather is just about upon us, which means it's time to make a hearty stew.  This simple Braised Lamb Stew recipe is perfect for throwing on the stove in the early afternoon so you can enjoy the aroma all day while curled up with a good book or enjoying your favorite football game.
This stew also takes advantage of the fantastic selection of local wines we have in Oregon.  Choose your favorite Pinot Noir for this recipe.  Just plan ahead–you'll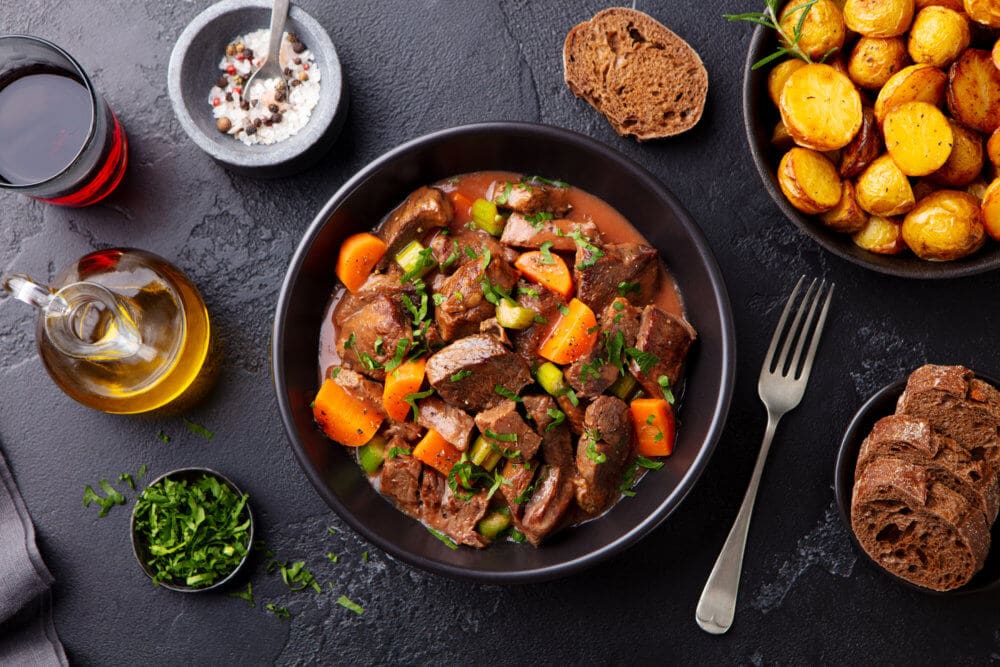 probably want an extra glass of it to drink with your dinner!
Ingredients:
3 tablespoons olive oil
1 6-pound lamb shoulder, cut into stew-sized pieces
2 cups of your favorite Oregon Pinot Noir
1 cup sweet onion, chopped
½ cup carrot, chopped
½ cup celery, chopped
3 cloves garlic, minced
2 ½ teaspoons juniper berries, slightly crushed
1 fresh rosemary sprig
Salt and pepper to taste
3 pounds medley potatoes
Your favorite local french bread
Braised Lamb Stew Directions:
 Heat the olive oil in a large enameled iron casserole over medium heat.
 Brown the lamb shoulder.
 Add the wine, onion, carrot, celery, garlic, juniper, rosemary, salt, and pepper.
Cover and reduce the heat to low.  Simmer for about 2 hours, stirring every half hour.
Add the potatoes and make sure they are covered in the liquid.
Cover the skillet leaving the lid slightly askew to allow air to escape, and cook for 1 ½ hour.  The meat and potatoes should be very tender and the liquid reduced.
Skim off any fat from the liquid and serve immediately with bread.
Stop by The Butcher Shop for the Freshest Meats and Local Produce
Why purchase meat and produce from a grocery store that comes from who knows where?  We have such excellent, fresh meat and produce available to us locally!  The Butcher Shop is your one-stop shop for locally sourced meats and produce from farms right here in Southern Oregon.  At TBS, you'll find the perfect cut of meat for your meal, plus fresh-baked loaves of bread, fresh fruit and vegetables, local wine and beers, and even quality food specifically for your canine.  Stop by today or call ahead to pre-order your ingredients.