Vietnamese Grilled Pork and Noodle Bowl In Vietnamese, this dish is called "Bún thịt nướng"
Vietnamese Grilled Pork and Noodle Bowl traditionally includes grilled pork over cold rice-vermicelli noodles, topped with fresh herbs and crisp vegetables.  It is a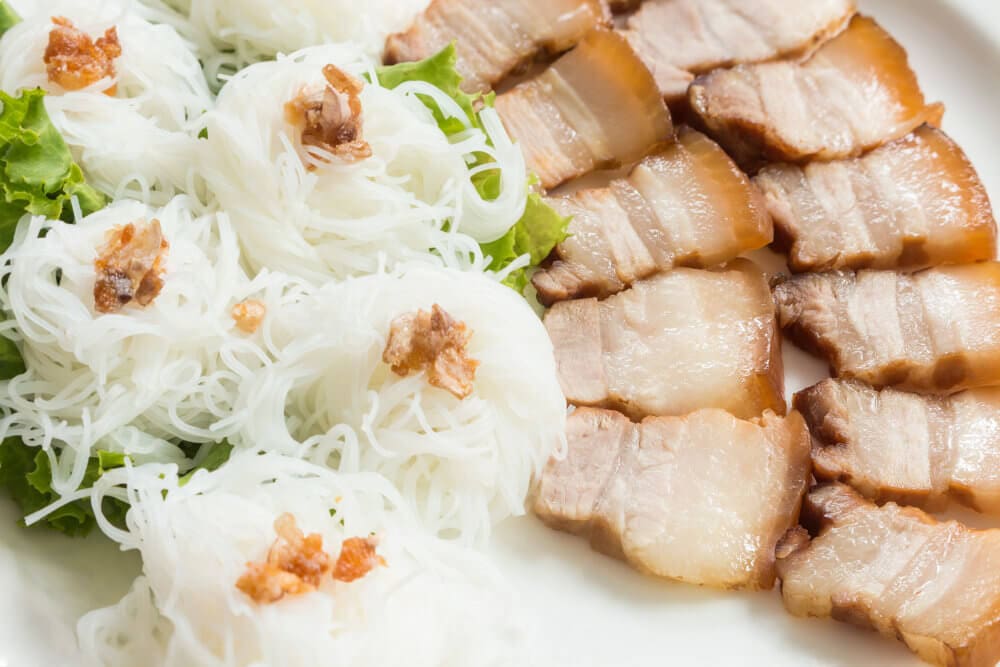 delicious and refreshing meal, perfect for any summer dinner.
Many Vietnamese dishes came from France.  During the 17th century, Catholic missionaries arrived in Vietnam, and France eventually colonized Vietnam and Cambodia.  You'll see an incredible amount of French influence on Vietnamese cuisine.
Ingredients for Vietnamese Grilled Pork:
For this recipe, you'll need about 2 pounds of TBS pork shoulder.
Marinade ingredients:
3 tablespoons of shallots
2 tablespoons of garlic
½ cup of brown sugar
2 tablespoons of fish sauce
½ tablespoons of thick soy sauce
½ tablespoons black pepper
3 tablespoons of vegetable oil
Noodles:  8 ounces of dried rice vermicelli noodles
Pickled Vegetables:
1 ½ cups cucumber, shredded
1 ½ cups carrots, shredded
½ cup rice vinegar
½ cup hot water
¼ cup sugar
Garnishes:
A handful of mint leaves
A handful of cilantro leaves
½ cup unsalted peanuts, chopped
1 lime
Sauce Ingredients:
½ cup hot water
3 tablespoons of sugar
2 tablespoons of fish sauce
2-3 tablespoons of fresh lime juice
¼ teaspoon red pepper flakes
Directions:
Step 1:  Marinade your pork
Remove excess fat from the pork and cut the meat into thin slices.  Place all of the marinade ingredients into a food processor and blend well.  Pour the marinade into a ziplock bag or baking dish with the pork, making sure the pork is well coated—marinade for 1 to 3 hours.
Step 2:  Pickle the vegetables
Mix hot water and sugar until the sugar is dissolved.  Stir in the rice vinegar.  Add the shredded cucumbers and carrots and allow them to sit for at least an hour.
Step 3:  Make the sauce
Combine the water and sugar and stir until the sugar dissolves.  Add the remaining sauce ingredients and mix well.
Step 4:  Prepare your noodles
Prepare your vermicelli noodles according to the direction on the package.  Allow the noodles to cool by rinsing them in cold water.  The cold rinse will also keep them from sticking to each other or overcooking.
Step 5:  Grill your meat
Heat your grill to medium.  The pork is best grilled low and slow over indirect heat.  The outside of the meat will brown due to the brown sugar in the marinade.
Step 6:  Put your bowls together
Add noodles to each bowl.  Top the noodles with grilled pork, pickled vegetables, and garnishes.  Serve with sauce either poured onto the meat or on the side.
We know preparing healthy meals for your family is important.  That's why The Butcher Shop always carries locally sourced meats and produce from farms right here in Southern Oregon.  At TBS, you'll find the perfect cut of meat for your meal, plus fresh-baked loaves of bread, fresh fruit and vegetables, local wine and beers, and even quality food specifically for your canine.  Stop by today or call ahead to pre-order your ingredients.