Easy to make in Minutes Seared Tuna with Wasabi Sauce
There's something about seared tuna with wasabi sauce that just has a fresh summer taste to it, plus it's incredibly nutritious.  A four-ounce serving of ahi tuna fish contains about 120 calories, 25 grams of protein, one gram of fat, and no carbohydrates.  It's also packed full of Vitamin B, omega-3 fatty acids, potassium, vitamin D,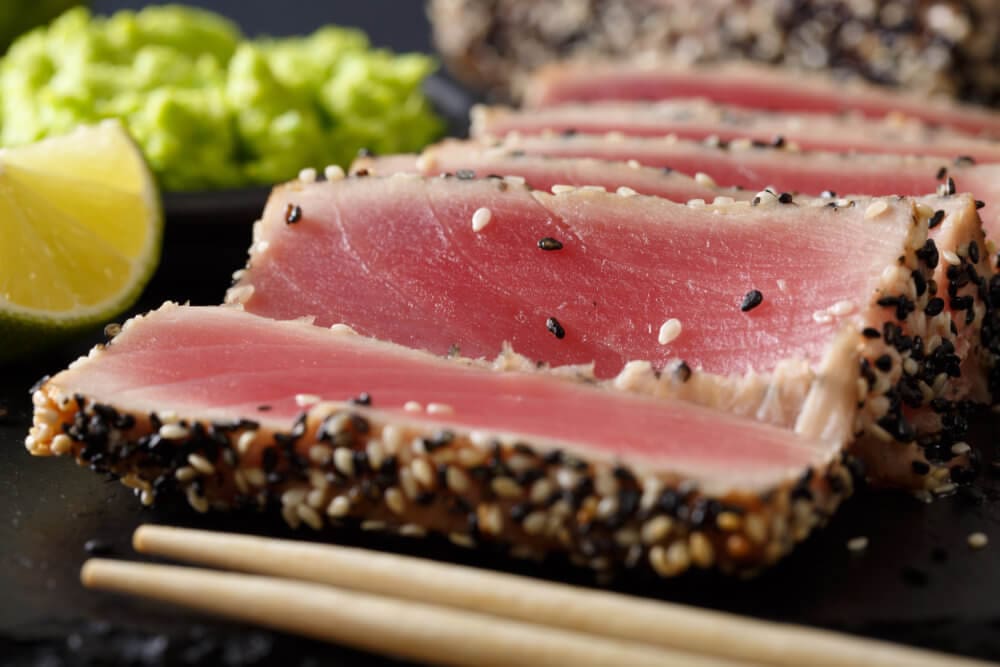 phosphorous, selenium, and magnesium.
When planning a meal of seared tuna, it's essential to make sure your fish is very fresh.  Since seared tuna is cooked very rare, the quality of the meat is critical.
Ingredients:
2 pounds of TBS ahi tuna, cut into four steaks with an approximate thickness of 1 ½ inches.
Kosher salt
Black pepper
4 teaspoons sesame seeds
4 teaspoons peanut oil
4 teaspoons lime juice
1 large sweet onion, sliced
1 large red bell pepper, sliced
2 cloves garlic, minced
1 cup of heavy cream
2 teaspoons wasabi powder
2 teaspoons fresh cilantro, chopped
Directions:
Season the ahi tuna steaks with salt and pepper.  Coat each steak with sesame seeds.
Heat 3 teaspoons of the peanut oil in a large saute pan over medium heat.
When the oil is hot, sear the tuna steaks for 2 minutes on each side.  Remove from pan and set aside.
Use the lime juice to deglaze the pan.  Pour the sauce over the steaks.
Use another saute pan and heat the remaining peanut oil over medium heat.  Saute the onions, bell pepper, and garlic for about 2 minutes.  Add a little salt and pepper to taste.
Combine the heavy cream and wasabi powder in a small saucepan and bring it slowly to a boil.  As soon as it reaches a boil, turn the heat down to simmer and allow it to cook for 10 minutes or until it thickens.  Stir it continuously until done.
Slice the tuna steaks into ¼ inch slices for serving.  Drizzle with sauce and garnish with cilantro.
Serve with the sauteed onions and peppers.
For the freshest, sushi-grade Ahi Tuna, visit The Butcher Shop.
We receive seafood shipments on Mondays, Wednesdays, and Fridays from small fishing outfits in nearby coastal towns.  Some of our seafood selection is seasonal, so give us a call to see what we have in stock today, or call us at 541-830-3369 to place an order for future pickup.