Grilled Clams and Mussels with Sesame-Cilantro Butter
There's nothing like fresh shellfish on a warm summer day, and preparing it on the grill is easier than you may think.  Virtually any shellfish such as oysters, clams, and mussels can be grilled easily within minutes.  And with access to fresh seafood and shellfish from The Butcher Shop, why wouldn't you give it a try?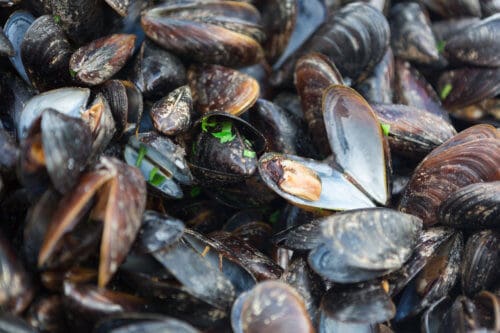 Ingredients:
2 pounds TBS small clams
2 pounds TBS mussels
8 tablespoons of butter
3 tablespoons fresh cilantro or flat-leaf parsley, chopped
2 cloves of garlic, minced
2 tablespoons sesame seeds
Grilled Clams and Mussels Tips:
Smaller clams are better for grilling. Larger clams tend to become tougher from the heat.
Be sure to clean all the sand and grit from the shellfish. You can use a stiff-bristled brush to scrub them and then rinse well under cool water.
Fresh shellfish should respond when you tap on them. Discard any shellfish with broken shells or have open shells that don't close when you tap them.
Bearding a mussel sounds complicated, but all it means is that you should pull out the cluster of threads at the hinge. This can be accomplished by pinching them with your fingers or using needle-nose pliers.
Directions:
Prepare your grill for direct grilling with high heat.
Clean the shellfish. Scrub the shellfish under cold water and discard any shellfish that are broken or unresponsive.  Beard the mussels.
Melt the butter in a saucepan. Add the cilantro or parsley, garlic, and sesame seeds.  Continue to heat and stir for about 2 minutes until fragrant.  Set on a low simmer to keep warm.
Add the shellfish to the grill grates. You can use vegetable or fish grates if you prefer.  Place them with the deep shell side down and level with the grates–this will help the shellfish retain its juices.  Grill them only until the shells pop open.  This should take anywhere from 2 to 6 minutes, depending on the thickness of the shells.  Discard any shellfish that refuses to open.
Transfer the shellfish to individually-sized serving bowls. Drizzle with the sesame cilantro sauce and toss the shellfish for complete coverage.
Serve with a local, crusty bread to sop up the juice from the bowls of shellfish.  Add a glass of your favorite white wine like a Chardonnay or Pinot Grigio.
Get the best ingredients for your summertime meals at The Butcher Shop!
We receive ocean-fresh seafood shipments on Mondays, Wednesdays, and Fridays.  When you bring home seafood from TBS, you can rest assured it will go from being caught to served on your plate within 24 hours.  Along with seafood and meat, TBS is your source for locally grown produce, fresh bakery items, and other specialty grocery items.  Stop by today and see what's in store for your best meals!