Grilled stuffed chicken breasts take a backyard barbeque from ordinary to extraordinary
They are quick and simple to prepare, and your guests will think you're quite the chef. These stuffed chicken breasts use sun-dried tomatoes, basil, and goat cheese, but you can substitute for other fillings as desired.  Other stuffing options include:
Prosciutto, mozzarella, and sage leaves
Smoked cheese, sliced kielbasa, and Sauerkraut.
Grilled Stuffed Chicken Breasts Ingredients:
2 TBS large, whole boneless skinless chicken breasts or 4 half breasts.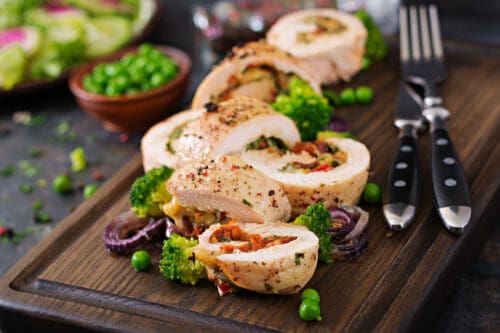 8 sun-dried tomatoes
8 large fresh basil leaves
4 ounces creamy goat cheese
Salt and pepper to taste
3 tablespoons olive oil
2 tablespoons lemon juice
Toothpicks
Directions:
Soak the sun-dried tomatoes in hot water for one hour and then drain.
Cut the goat cheese into 4 slices. Goat cheese is incredibly soft, so the best way to cut it is by using taught, unflavored dental floss as a slicer.
If you purchased whole breasts, cut each one in half to make 4 equal-sized pieces. Trim away the tenderloin portion of the breast.  Rinse each piece well and blot dry with paper towels.
Cut a pocket into each breast. To accomplish this, place the breast on the edge of a cutting board with the thicker side on the board's edge.  Hold the piece of meat flat with the palm of your hand.   Keep the blade of the knife parallel to the cutting board and carefully slice into the chicken.
Stuff each of the breasts with 2 sun-dried tomatoes, 2 basil leaves, and 1 slice of goat cheese. Secure each pocket closed with an oiled toothpick.
Place the stuffed chicken breasts into a glass or ceramic baking dish and season with salt and pepper. Cover with oil and lemon juice and allow them to marinate while the grill is heating up.
Prepare your grill for direct grilling and pre-heat to high. Make sure the grill is brushed with olive oil.
Arrange the breasts on the hot grate, with all pieces facing the same direction. To achieve those fabulous grill marks, place the pieces at a 45-degree angle to the bars of the grate and rotate them by 90 degrees every 2 minutes.
Grill for a total of 4 to 6 minutes per side until the chicken is cooked. The internal temperature should be 160 degrees–just make sure you take the temperature of the meat and not the stuffing!
Transfer the chicken breasts to a platter and remove the toothpicks before serving.
Find the freshest ingredients at The Butcher Shop.
No matter what's on your menu for your family barbeque, let our team at The Butcher Shop put together the perfect ingredients for your festivities.  Stop by or give us a call to place an order.  Our locally sourced meats and farm-fresh produce will delight any crowd.