Peruvian Chicken with Aji Verde Sauce
Peruvian chicken is one of the most widely popular meals in Peru, yet its history only goes back to the 1950s.  "Pollo a la Brasa" or "grilled chicken" was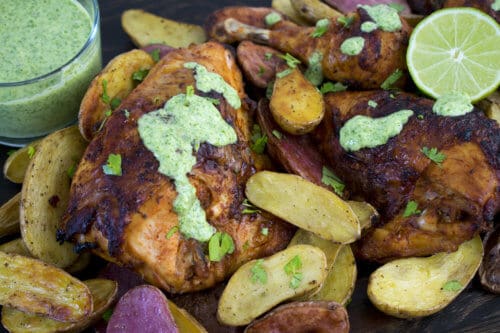 invented by Roger Schuler, a Swiss immigrant living in the district of Chaclacayo, Peru.  His recipe was quite simple, with a marinade consisting solely of salt.  He experimented with his technique of grilling the bird on hot coals to cook, and before long, opened a famous chicken restaurant that continues to serve delicious meals today.
With the help of his friend, Franz Ulrich, the two further improved the process with the first rotisserie, called the "El rotombo" or "spit-roast."  As time went by, cooks added traditional Peruvian spices to the marinade, such as rosemary, salt, huacatay (Peruvian black mint), pepper, sillao, aji panca (Peruvian red pepper), and cumin.
You don't need a rotisserie or special herbs to enjoy Peruvian chicken at home!  A quick marinade using common spices and a good barbeque will bring South American flavors to your dinner table.
The Meat
1 ½ to 2 pounds of TBS chicken.  Both light and dark meats work well for this recipe so choose whatever you prefer.
The Marinade
4 cloves of garlic, minced.
2 tablespoons olive oil
1 lime, freshly squeezed
2 tablespoons honey
1 tablespoon cumin
2 tablespoons smoked paprika
1 teaspoon coriander
1 teaspoon dried oregano
1 ½ teaspoon salt
The Aji Verde Sauce (Peruvian Green Sauce)
Simply combine all of these ingredients in a food processor or blender.  Blend until the cilantro has broken up and the sauce is green and mostly smooth.  You can store the sauce in the refrigerator within a covered container for about a week.
½ cup mayonnaise
2 cups lightly packed fresh cilantro
2 medium jalapenos, with seeds and membranes, removed, roughly chopped
2 cloves of garlic, roughly chopped
⅓ cup grated Cotija
½ lime, freshly squeezed
¼ teaspoon salt
Directions:
Preheat the grill to medium-high.
Make the marinade by mixing all the ingredients in a bowl.  Toss in the chicken and allow it to marinate until the grill is ready.  For more intense flavor, marinate the chicken longer or even overnight in the refrigerator.
Make the Aji Verde sauce.
When the grill is ready, grill the chicken.  By searing each side well, the chicken will have a traditional crisp outer coating.  After searing, turn the heat down or move the chicken to a less hot portion of the grill to finish cooking.
When done, serve over rice or mashed potatoes.  Drizzle the Aji Verde Sauce over the chicken.  Garnish with extra fresh cilantro leaves and cherry tomato halves if desired.
Make your barbeque the talk of the town with the freshest meats from The Butcher Shop.
No matter what's on your menu for tonight, let our team at The Butcher Shop put together the perfect ingredients for your meal.  Stop by or give us a call to place an order.  Our locally sourced meats and fresh seafood selections will make any dish absolutely delicious.  We cannot be responsible for the level of jealousy your neighbors will feel when they smell your barbeque roasting meat from our store.