Have a Luau with Grilled Huli Huli Chicken
Even if you don't have the means for a Hawaiian vacation right now, you can bring the tropical flavors home with grilled Huli Huli Chicken. Huli Huli is a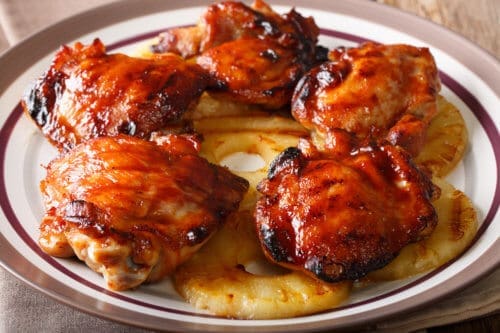 popular marinade from the island made with brown cane sugar, soy sauce, ginger, and other spices.  "Huli" means "turn" in Hawaiian and depicts the method used to grill the meat over an open roasting pit.  It's easy to create a Hawaiian backyard feast by pairing the Huli Huli chicken with rice, grilled pineapple, or other stir-fried vegetables.
Grilling Huli Huli chicken consists of two steps:  marinading and roasting.  It's best to marinate the chicken in a refrigerated, sealed container overnight, but if you're in a hurry, at least 2 hours.
Chicken thighs work well for grilling because they have a higher fat content that keeps the meat moist.  Boneless, skinless thighs are traditionally used for this recipe, but you can substitute different cuts (bone-in or breast meat)–just adjust your grilling time accordingly.
Ingredients:
1 cup unsweetened pineapple juice
1 cup packed brown sugar
¾ cup ketchup
½ cup soy sauce
⅓ cup dry sherry
2 ½ teaspoons minced fresh ginger
1 ½ teaspoons minced garlic
6 pounds TBS boneless, skinless chicken thighs
Grilled Huli Huli Chicken Directions:
Mix the pineapple juice, sugar, ketchup, soy sauce, sherry, ginger, and garlic in a bowl.  Reserve 1 ⅓ cups of the mixture in a small container and refrigerate.  Divide chicken thighs into two baking dishes and cover each dish with half of the remaining marinade.  Make sure both sides of the chicken are coated with the marinade.  Set the dishes into the refrigerator overnight.
Drain the chicken and discard the marinade.
Grill the chicken on an oiled rack over medium heat for 6-8 minutes on each side.  The chicken should reach an internal temperature of 165.  Baste with the reserved marinade during the last 5 minutes. (Never use leftover marinade that the meat sat in overnight as it could cause food poisoning.)
Pull the meat from the grill and cover it with foil.  Allow it to rest for at least 10 minutes before serving.
Find the freshest ingredients at The Butcher Shop.
No matter what's on your menu for your family barbeque, let our team at The Butcher Shop put together the perfect ingredients for your festivities.  Stop by or give us a call to place an order.  Our locally sourced meats and farm-fresh produce will delight any crowd.