Get ready for barbeque season with the best steak marinade!
The sun's out, it's almost time for the workday to conclude, and you're sitting back in your chair imagining the perfect evening.  All you need to do is jump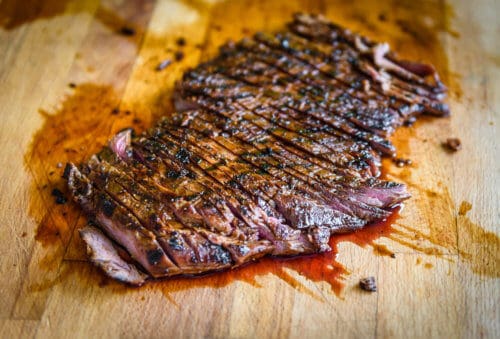 in your car, stop at The Butcher Shop on your way home, and grab a couple of ribeye, tenderloin, or strip steaks to throw on the barbeque.  Before you fire up the grill, take your time to add the best flavor to your meat with a proper marinade.
Marinading your meat adds depth of flavor to your dish.  You can purchase pre-made marinades at the supermarket, but it's simple to create your own–plus you can customize it to your unique taste.  Marinades all require three basic ingredients:  an acid or enzyme, an oil, and flavors.
Acids and enzymes break down the meat's tissue and allow flavors to penetrate more easily.  Common acids include vinegar and citrus juices while mango, papaya, and kiwi fruit are often used as enzymes.  Because they weaken the surface of the meat, there is a limit to how long you should use a marinade.
Oils grab the seasonings, herbs, or other flavors and transfer them to the meat.  The oil will also help the meat retain moisture and balance out any sharpness from the acids or enzymes.
The sky's the limit for adding flavor to your marinade.  Depending on the style of your dish, you can include salts, mustards, soy sauce, brown sugar, honey, preserves, cola, ginger ale, Worcestershire sauce, cilantro, and more.
Here's a simple recipe for a steak marinade that's full of flavor and a favorite of both kids and adults.
Ingredients:
¼ cup olive oil
¼ cup balsamic vinegar
¼ cup Worcestershire sauce
¼ cup soy sauce
2 teaspoons Dijon mustard
2 teaspoons minced garlic
1 pinch of salt and pepper to taste
Mix all ingredients together in a bowl.  Pour over steaks in a sealed bag or container.  Marinate steaks for 2 to 2 ½ hours in the refrigerator–just enough time to sit back on the patio and relax with a glass of wine.  After the marinade time is done, pop the steaks on the grill and cook to your liking.
Come by The Butcher Shop to select the finest locally sourced meats and vegetables for your dinner.  Our meats are natural, non-GMO, and free-range sourced from local farmers here in Southern Oregon. We can help you put the perfect meal on your dinner table.