How To Make The Best Carne Asada
Are you planning a stay-at-home Cinco De Mayo celebration this year?  Making your own carne asada is easy and delicious!  With a bit of preparation and grilling, you'll have the signature dish for a festive celebration to serve friends and family.
Carne asada translates in English to "grilled meat" and refers specifically to grilled beef.  You can use skirt steak or flank steak to make carne asada.  Flank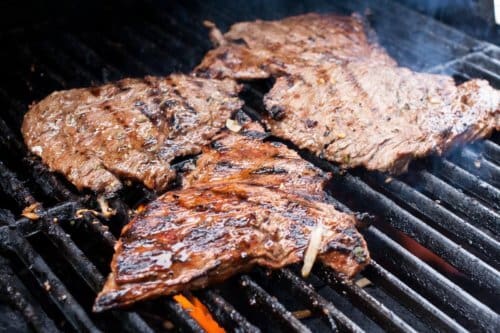 steak is a bit leaner and has a more intense flavor.  Skirt steak has a similar flavor but contains slightly tougher fibers.
Ingredients:
1 ½ pound TBS flank or skirt steak
½ cup chopped fresh cilantro
⅓ cup olive oil
¼ cup reduced-sodium soy sauce (you can substitute with white wine vinegar)
1 orange, juiced
2 limes, juiced
1 lemon, juiced
4 cloves garlic, minced
1 jalapeno, seeded and diced
1 teaspoon ground cumin
Salt and pepper to taste
Directions:
Start by making the marinade/sauce for the beef.  Combine the cilantro, olive oil, soy sauce, juices, jalapeno, cumin, and 1 teaspoon of pepper in a bowl.  Set aside ½ cup in the refrigerator to use later for a sauce.
Add the beef to the remaining marinade in the bowl and allow to sit in the refrigerator for at least four hours.
Preheat the grill to high heat and take the meat out of the marinade.  Pat both sides of the steak to dry and season each side with salt and pepper.
Place the steak on the grill for about 6 minutes per side (for medium-rare).  Only flip the meat once.  Flank steak is best served rare or medium-rare.
After grilling, allow the steak to rest for 5 to 10 minutes.  Resting is essential for the meat to retain its juices.
Slice the steak thinly against the grain.  Platter the meat and cover with the reserved ½ cup of sauce.
Temperature Guidelines for Steak
Taking the internal temperature of the meat is the best way to determine how "done" the grilled steak is:
Rare: 125°F to 130°F
Medium Rare: 135°F to 140°F
Medium to Medium Well: 145°F to 150°F
Well Done: 150°F
Come by The Butcher Shop to select the finest locally sourced meats and vegetables for your dinner.  Our meats are natural, non-GMO, and free-range sourced from local farmers here in Southern Oregon. We can help you put the perfect meal on your dinner table.