Perfect For Holiday Leftovers
Wondering what to do with all the leftover ham from Easter dinner?  Why not turn your leftovers into a delicious hand and cheese strata brunch?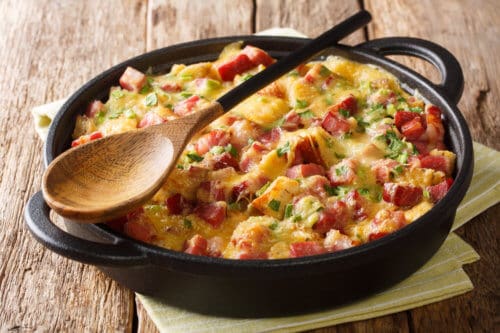 Whether you're making this just for your family or for a little social time with a friend, this recipe is easy to prepare and tastes wonderful.
Stratas are easy casseroles to make and usually consist of an egg mixture over bread.  These ingredients combine in the oven resulting in a fluffy, cake-like consistency.  It's also easy to add other ingredients to recipes like the one below based on your own preferences and what you have in the refrigerator such as finely diced red and green peppers, chopped mushrooms, or finely chopped onion.
To make preparing brunch even more seamless, you can put the strata together the night before.  Just cover the casserole with foil and refrigerate.  Bake in the oven as directed in the morning.
Ham and Cheese Strata Ingredients
10 eggs
1 ½ cup milk
2 teaspoons Dijon mustard
2 teaspoons thyme
1 teaspoon garlic powder
Salt and pepper to taste
4 cups cubed bread—French works well, but other "sturdy" breads work great, too.
½ pound of TBS ham, chopped
1 ½ cup shredded cheese – white or sharp cheddar work best
Directions For Ham and Cheese Strata
Preheat your oven to 350°
Add the bread to a greased or buttered 9" x 13" baking dish.
Top the bread layer with ham and cheese.
Whisk together the eggs, milk, mustard, thyme, garlic powder, salt, and pepper. Pour into the baking dish.
Bake uncovered for 45 to 55 minutes until the eggs are cooked through and the ham is golden.
There are endless options for other dishes to serve with strata for brunch.  Local, fresh fruit is always a great side dish.  Others may prefer yogurt with fresh berries and granola or even a light salad with vinaigrette.
To make the freshest and healthiest meals, choose The Butcher Shop.  We always carry locally sourced meats and produce from farms right here in Southern Oregon.  At TBS, you'll find the perfect cut of meat for your meal plus fresh-baked bread, fresh fruit and vegetables, local wine and beers, and even quality food, especially for your canine.  Stop by today or call ahead to pre-order your ingredients.