Introduce Your Family to Greek Cuisine with a Simple Build-Your-Own Gyro Bowl
Celebrate the tastes of the Mediterranean with a simple dish your entire family will love.  Greek cuisine incorporates the use of olive oil, fish, lean meats,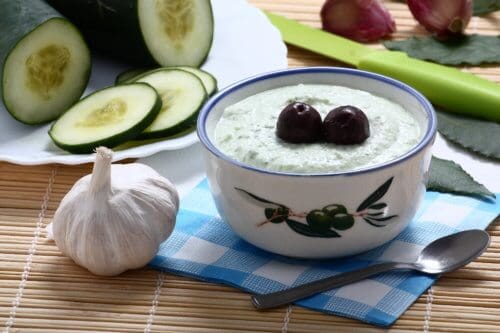 herbs and grain, and fresh vegetables to create delicious and heart-healthy meals.  You don't need to go to a fancy restaurant to enjoy a Greek meal.
The hardest part of this meal is just browning the ground lamb with spices.  Once you've prepared the meat, add it to a bowl with the other ingredients.  Layer the ingredients on the pita for delicious Greek bites, or add the ingredients to a larger piece of pita to make it into a modified gyro wrap!
To prepare the ground lamb:
1 pound of TBS ground lamb
1 tablespoon olive oil
¼ cup diced onion
4 cloves of garlic, minced
½ teaspoon coriander
1 teaspoon cumin
½ teaspoon oregano
¼ teaspoon Aleppo pepper (or 1/8 teaspoon red pepper flakes)
Salt and pepper to taste
¼ cup fresh mint, chopped
¼ cup fresh parsley, chopped
Gyro Bowl Directions:
Sauté the onions and garlic over medium heat until the onions soften.
Add the ground lamb. Brown until cooked through.
Add the coriander, cumin, oregano, Aleppo pepper, salt and pepper.
Dish into serving bowl and top with mint and parsley.
Other ingredients for your Gyro bowl:
Turmeric Rice* (regular jasmine rice is an easy alternative)
Diced tomatoes or sliced cherry tomatoes
Peeled and diced cucumbers
Hummus (make your own or purchase store-bought)
Feta cheese
Pita bread
Tzatziki sauce*
Kalamata Olives
*How to make turmeric rice:
Rinse 1 cup of jasmine rice under running water.
Add a tablespoon of olive oil and a tablespoon of butter to a medium saucepan over medium heat.
When butter has melted, add ¼ cup of diced onion and 4 cloves of minced garlic. Sauté until onions soften.
Add rice and 1 ½ teaspoon of turmeric. Stir until combined.
Add 1 ½ cup of chicken broth, a bay leaf, and salt and pepper to taste.
Cover and reduce to simmer for 15-20 minutes. Remove from heat and allow the rice to rest for another 5 minutes.
*How to make Tzatziki sauce:
Mix together in a bowl:
½ cucumber, peeled, seeded, and finely chopped or grated
1 cup Greek yogurt
¼ teaspoon salt
1 tablespoon extra-virgin olive oil
1 small clove of garlic, minced
1 tablespoon fresh dill, chopped
1 tablespoon fresh lemon juice
We know preparing healthy meals for your family is important.  That's why The Butcher Shop always carries locally sourced meats and produce from farms right here in Southern Oregon.  At TBS, you'll find the perfect cut of meat for your meal plus fresh-baked bread, fresh fruit and vegetables, local wine and beers, and even quality food, especially for your canine.  Stop by today or call ahead to pre-order your ingredients.