Looking for a special dish for St. Patrick's Day but corned beef isn't your thing?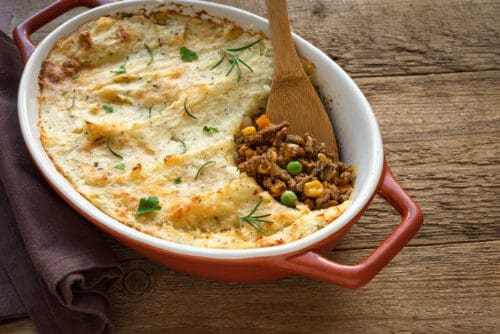 How about a warm and delicious Irish Shepherd's Pie?  Irish Shepherd's Pie dates back to the 1700's when Irish housewives searched for innovative ways to prepare frugal dishes using leftovers.  Today, the dish continues to feature easy-to-find ingredients that come together as an ultimate comfort-food dish.
Irish Shepherd's Pie can seem a bit more daunting for inexperienced cooks because of the number of steps and ingredients.  However, if you break it down and measure all your ingredients out before you start, it's really a very simple dish to prepare.
Part 1:  Make your mashed potatoes.
Everyone has a different favorite method for making mashed potatoes, and frankly, whatever method you prefer will work just fine for this recipe.  Here's a quick and easy idea:
Ingredients:
3 pounds of Yukon gold potatoes, quartered.
1 teaspoon salt
1 to 1 ¼ cup heavy cream
3 tablespoons butter
1 cup grated white cheddar cheese
Additional salt and pepper to taste
Directions:
Place the potatoes in a large pot and add cold water to it. The potatoes should be covered by at least an inch of water.  Add a teaspoon of salt and then turn up the heat to achieve a boil.
Once the water is boiling, reduce heat to low, cover, and simmer for 15-20 minutes until the potatoes are soft enough to be easily pierced with a form.
During the simmer, melt the butter and warm the cream together in another pan or in the microwave.
When done, drain the water from the potatoes. Add the cream and butter mixture slowly and then mash everything with a potato masher. The amount of mixture you need will depend on the consistency of the potatoes.  Tip:  Don't over-mash your potatoes—the starch will turn to glue.
Stir in the cheese so it melts into the potatoes, OR you can simply sprinkle the cheese on top when the casserole is assembled.
Set this aside until the filling is ready and preheat your oven to 350°
Part 2:  The Irish Shepherd's Pie filling.
Ingredients:
3 tablespoons olive oil
2 pounds TBS lean ground beef
¼ teaspoon salt and ¼ teaspoon pepper to season the meat
1 sweet onion, chopped
2 teaspoons minced garlic
3 tablespoons tomato paste
1 tablespoon Dijon mustard
1 cup beef broth
2 tablespoons Worcestershire sauce
1 cup of your favorite dark stout
1 tablespoon of bittersweet chocolate chips
1 tablespoon dark brown sugar
1 teaspoon dried thyme
1 teaspoon dried parsley
½ teaspoon dried sage
½ teaspoon dried marjoram
12 ounces of frozen peas and carrots, thawed.
Directions:
Using the olive oil, sauté the onion in a large pot or dutch oven over medium heat. After 3-4 minutes, add the garlic and cook an additional minute.
Add the TBS lean ground beef and brown it until there is no pink visible. Season with salt and pepper while it's browning.
Add the tomato paste, Dijon mustard, Worcestershire sauce, and beef broth. Stir well.  Then add the stout and stir until mixed well.
Add the remaining spices, brown sugar, and chocolate chips. Make sure all ingredients are mixed well throughout.  Heat the mixture until it boils, then turn the heat down and simmer for 25 minutes or until the filling is thick and glossy.
Step 3:  Assemble the Irish Shepherd's Pie.
Use a greased 8×11 or 9×11 baking dish. Add the meat mixture as the bottom layer of the dish.  Next, create a layer using all of the thawed peas and carrots.  Finally, carefully spoon the mashed potatoes as the top layer and smooth over with a fork.
Bake the casserole at 350°F for 15 minutes until the surface is slightly browned and the potatoes are beginning to crisp.
Step 4:  Make gravy.
Because the meat in this recipe is not conducive to producing homemade gravy, you'll need to rely on one of your other favorite solutions.  You can use a brown gravy packet and prepare to its directions, grab a jar of pre-made beef gravy, or use another favorite gravy recipe in your family cookbook.
Step 5:  ENJOY!
There's no reason you need to add a side dish to this casserole, but if you want to increase the Irish celebratory factor you could always cook up some steamed cabbage to go with it.  Don't forget to wear your lucky Irish green to your family dinner party!