Put a Delicious German Dinner on Your Table in 30 Minutes
The bratwurst may be one of the most popular and delicious traditional foods shared with us by our German friends and ancestors.  With a history dating as far back as the 1300s, this self-contained food item was originally created as a way to use up all the meat scraps so that not a single valuable piece of protein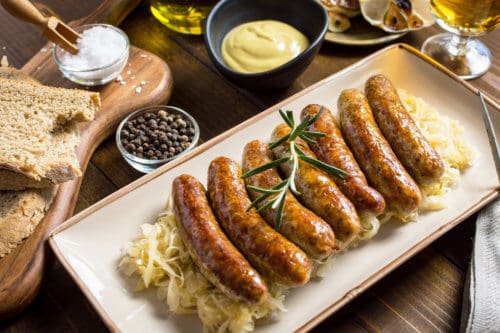 would be wasted.  In fact, the German etymology of "brat" means without waste and "wurst" means sausage.  Today, the bratwurst is a bit more dignified and has developed into over 40 varieties comprised of different ingredients and multiple sizes to meet just about anyone's taste.
Sure, there are some very basic ways you can prepare a bratwurst dinner.  Many people boil their brats in beer with a little onion garlic, simmer for about 10 minutes, and then cook them on a grill over medium heat for a few minutes on each side.  However, it's not hard to take your brats to another culinary level.
Cabbage and Sweet Mustard Bratwurst Dinner
Ingredients: 
6 TBS Wisconsin Bratwurst sausages
¼ cup apple cider vinegar
1 tablespoon sugar
2 tablespoons water
4-5 tablespoons olive oil
1 tablespoon brown mustard or your favorite German mustard
2-3 large red potatoes
1 sweet onion, chopped
½ head green cabbage, sliced
Salt and pepper, to taste
Instructions: 
Preheat oven to 200°
Use a medium bowl to whisk together vinegar, sugar, water, 3 tablespoons of olive oil and mustard. Set aside.
Brown the sausages in a deep skillet. Once each side has a good, dark color, move the sausages onto a baking sheet or casserole dish and place into the oven.  Browning gives your meat flavor; so don't skimp on this step.  Place your skillet aside on the stove, but don't clean it—you'll want that residual flavor for the rest of the ingredients!
Prepare the potatoes. Poke holes into the potatoes and microwave for 2 minutes on high.  Allow them to rest for a few minutes and then cut them into large chunks.  Coat the pieces well with 1-2 tablespoons of olive oil and then add them to the skillet and adjust heat to medium low.
Add the onion to the skillet and cook for 10 minutes until the potatoes begin to brown.
Add the cabbage to the skillet and cook for another 10 minutes. Stir frequently to keep it from sticking to the bottom of the pan.
Add ¼ of the whisked mustard sauce ingredients and cook for 2 minutes while stirring. Repeat three more times.
Remove the brats from the oven and cut them into bite-size pieces. Add to the skillet, stir, and heat for 1-2 minutes.  Season with salt and pepper.
Don't forget to stop at The Butcher Shop to find the best ingredients for every meal.  Our locally sourced meats and seasonal produce will bring additional flavor to your favorite recipe.  Stop by or give us a call to place an order today!