When the outdoor air has that chilly bite to it and the sky looks like snow might begin falling at any moment, there's nothing better than the enticing aroma of a slow simmering pot of beef stew.  But before you grab your soup pot from the back of your cabinet, consider what type of beef you'll be using for tonight's dinner.
What's the best cut of beef to use for stew?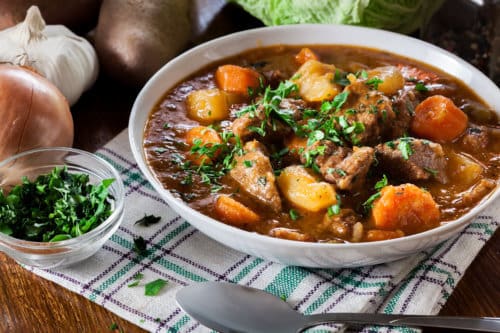 It may seem obvious, right?  If you guessed stew meat, well…that's not it.  This cut is named "stew meat" because it has traditionally been a popular choice for soup.  You'll find this meat is constructed of tough connective tissue that needs to be simmered for a long period of time to break down.  There's no definition of exactly what part of the cow this cut comes from and could be odds and ends of various other cuts.
The challenge with stew meat is that it lacks consistency:  some chunks may leaner while others contain more fat, making it more challenging to cook correctly to get that "melt in your mouth" texture.  Now, this doesn't mean you can't use it—stew meat can be less expensive and some people prefer it because it does hold up well after hours of cooking.  But you might want to give one of these other options a try:
Chuck roast. Chuck roast originates from the strong shoulder muscles of the cow.  Well-worked muscles contain high amounts of collagen-rich tissue.  Cooked low and slow, collagen melts into the meat and releases gelatin which means you get great texture and rich flavor.
This cut originates from the breast underneath the first five ribs of the cow and can be more affordable than other selections.  It's also a hefty, tough cut of meat full of collagen and connective tissue that becomes delicious after hours of simmering.  There are two types of brisket:  the "first cut" which is a leaner section and the "second cut" or "deckle" which contains more fat.  The second cut results in a much tastier stew.
Bone-in short ribs. Cooking meat on the bone gives you the added benefit of better flavor.  During the hours on the stove, the bone marrow infuses the meat and broth resulting in a stew with rich depth of flavor.
Beef Stew Recipe
Ingredients
2 pounds of TBS chuck roast cut into cubes
3 tbsp all-purpose flour
½ tsp garlic powder
¼ cup butter
¼ cup olive oil
½ tsp salt
½ tsp black pepper
1 onion, chopped
8 cups beef broth
4-6 large carrots, cut into 1-inch sections
1 pound yellow potatoes, diced in 1-2 inch cubes
3 cups celery, chopped
3 tbsp tomato paste
1 tsp dried parsley
1 tsp dried basil
½ tsp paprika
Directions:
Coat the cubed meat with a mixture of flour, garlic powder, salt, and pepper.
Melt butter and olive oil in the soup pot and brown the beef (about 5 to 7 minutes per side).
When the beef is almost completely browned, add onions and sauté for about 5 minutes. Mix in the tomato paste.
Add a cup or two of beef broth to deglaze the pot.
Add remaining beef broth and bring to a simmer.
Add all remaining ingredients and bring to a boil.
Once the soup begins to boil, reduce heat and simmer for 3 to 4 hours until the meat and vegetables are tender.
Come by The Butcher Shop to select the finest locally-sourced meats and vegetables for your dinner.  Our meats are natural, non-GMO, and free-range sourced from local farmers here in Southern Oregon. We can help you put the perfect meal on your dinner table.