Start the Year with a Healthy and Delicious Dinner:  Chimichurri Shrimp
After many weeks of consuming hearty, savory meals, are you ready to enjoy a delicious, light meal with a Latin twist?  This dinner is incredibly easy to prepare yet tastes like you're enjoying a fine dining experience.
While the name 'chimichurri' is thought to stem from the Basque word 'tximitxurri' meaning 'a mix of several things in no special order', this is certainly not a hodgepodge of flavors.  Chimichurri sauce is an Argentinian favorite enjoyed throughout South America.  Traditionally, this sauce is made of a few common ingredients:  parsley, garlic, oregano, and white vinegar.  In South America, there are a number of regional variations–for example, in Uruguay, you'll find red pepper flakes added to give it a little extra heat.  This tasty sauce is poured over grilled meat, or as this specific recipe calls for, on shrimp.
Ingredients:
You'll basically be making three things:  sauce, rice, and shrimp.  To make this recipe even easier, we recommend using locally produced Sherry's Chimichurri Sauce and fresh shrimp, both available right here at The Butcher Shop
.The Sauce:
Use fresh herbs for this recipe and amounts should be densely packed.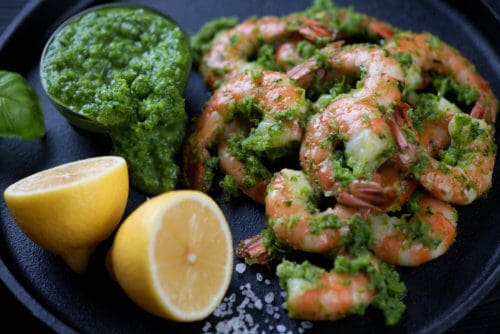 ½ cup of red onion – diced

3 cloves of garlic, peeled  

1 cup of finely chopped cilantro.

1 cup of finely chopped parsley.

3 tablespoons fresh oregano 

½ cup of olive oil

2 tablespoons red wine vinegar

2 tablespoons fresh lime juice

¼ teaspoon kosher salt

¼ teaspoon ground black pepper
Using a food processor:
Pulse garlic and onion until chopped.

Add the cilantro, parsley, and oregano and pulse until chopped.

Add remaining ingredients and pulse until combined.
The Rice:
Prepare your favorite type of rice using the directions on the package.  If you prefer, this recipe also pairs well with cauliflower rice, pasta, or quinoa.
The Shrimp:
1 pound TBS fresh shrimp peeled and deveined.

2 tablespoons olive oil.
Saute the shrimp in oil using a deep skillet for approximately 5 minutes.  When done, toss the shrimp with a portion of the sauce you've prepared or as much of the Sherry's Chimichurri Sauce you need to coat the shrimp.  Refrigerate the remaining sauce for another meal.
Serve over rice.
And just like that, dinner is served!  We have most of the ingredients you need for this recipe available in our store.  Simply stop by or give us a call and we'll have your order ready for you to pick up.  This is sure to be a family favorite for the New Year!