Start a New Tradition this Year with the Feast of the Seven Fishes
Spend Christmas Eve with a traditional Italian-American family and you're in for a meal that makes most Thanksgiving dinners look like a snack.  Families have come together to share a meal comprised of an extravagant seven seafood dishes since this holiday gained popularity in the early 1900s among Italian immigrant families in the United States.  There are no set standards for what makes up those dishes and can include anything from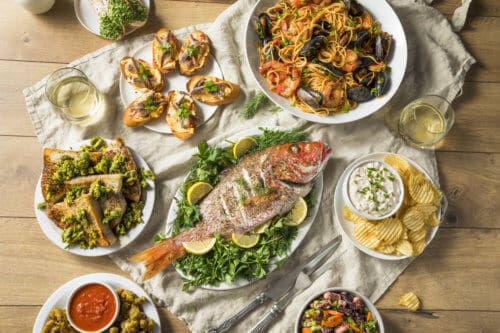 seafood pasta to baked salmon or even Manhattan clam chowder.
The history of this meal is a bit mysterious.  Despite the myth that it is related to the Roman Catholic Church, no such formal feast exists in the religion.  However, it is possible that another Catholic ritual promoting fasting during the daytime hours of Christmas Eve ("The Vigil of the Nativity of the Lord") resulted in parishioners cooking a hearty meal of fish and pasta to be enjoyed once the fast concluded.  No one really knows where the "seven" came from, although the number seven has many symbolic references in the Bible—its repeated over 700 times, in fact.
Although this celebration gained enormous popularity in America, interestingly it is not well known in Italy.  It is more likely to have been created once Italians arrived in America as a way to remember all the rich, seafood dishes enjoyed in Northern and Southern Italy.
If you want to bring a little bit of this tradition into your home, don't feel pressured to plan and present a full seven-course meal, The Feast of the Seven Fishes to your friends and family.  Many Americans celebrate in a modified format with one or two seafood-based dishes on Christmas Eve.  Here is an easy recipe you can make with seafood purchased locally from The Butcher Shop:
Seafood Spaghetti with Mussels and Shrimp
Ingredients for The Feast of the Seven Fishes:
3 tablespoons olive oil
1 medium onion (chopped)
4 garlic cloves (sliced or minced)
¾ teaspoon crushed red pepper flakes
3 tablespoons tomato paste
1 cup dry white wine
28 ounces whole, peeled tomatoes
1 pound spaghetti
2 pounds TBS mussels (scrubbed and debearded)
2 pounds TBS large shrimp (peeled and deveined)
3 tablespoons butter
3 tablespoons parsley (finely chopped)
1 tablespoon fresh lemon juice
1 teaspoon salt
Lemon wedges
Directions:
Prepare the spaghetti according to the directions on the package. While the spaghetti is cooking, continue to prepare the sauce.  Reserve about a cup of water once pasta is done.
Sauté the onions in a deep skillet or dutch oven over medium heat until they just become translucent. Add the garlic, red pepper flakes, and salt.  Cook for about 2 minutes until garlic is softened.
Add tomato paste and stir for about 4 minutes until the paste darkens and just starts sticking to the pan.
Deglaze with wine and allow contents to cook for another 4 minutes.
Add the tomatoes with the juices, gently crushing the tomatoes by hand. Increase heat to medium-high.
Cook until the sauce thickens, approximately 8-10 minutes.
Add the seafood and ¼ cup reserved pasta water. Cover and allow to cook, shaking the pot occasionally to encourage the mussels to open.  After 4 minutes, transfer all seafood into another bowl and discard any mussels that have not opened.  Cover seafood with foil.
Add pasta and another ¼ cup of reserved pasta water to the sauce and stir. Reduce heat to medium, add butter, and stir.  If the sauce does not cover the pasta, add more reserved pasta water.  After 4 minutes, remove from heat, add seafood back to the pasta, and toss.  Add parsley and lemon juice.
Serve immediately and garnish dishes with lemon wedges.