Celebrate a Non-Traditional Year with a Non-Traditional Holiday Meal
It seems very little in 2020 has been "normal."  Sporting events are happening without attendees.  New movies are being released as downloadable rentals.  Children are attending school at least partially from home.  Work meetings happen online.  And blowing out birthday candles??  Not this year!
So why should Thanksgiving be any different?  During a year when we're all thinking "outside-the-box," it's the perfect time to expand our horizons beyond just turkey for a delicious holiday meal.  Here are a few novel ideas from our staff at The Butcher Shop:
Braised Short Ribs
If you're a fan of a hearty stew on a cold, autumn day; braised short ribs with a side of mashed potatoes will warm your soul.  Most recipes use 5 to 6 pounds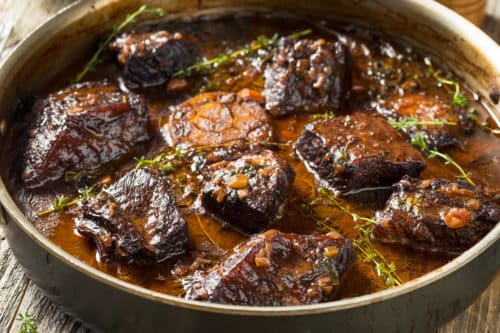 of bone-in short ribs that are browned and then cooked in the oven with a braising liquid made of diced or pureed vegetables.
Roasted Pork Tenderloin
Pork tenderloin is not only simple to prepare, but also a cost-effective meal option for families on a budget.  Simply trim the meat, apply a rub of spices likely already in your pantry, brown on the stove, and then bake for 13-15 minutes.  Add your favorite vegetables as a side and you're ready to eat!
Honey Glazed Ham in the Slow Cooker
For those of us who love having leftovers for days, a honey-glazed ham is the way to go.  All you need is an 8 to 10-pound spiral cut ham and 4 to 5 hours (with periodic glazing) in a slow cooker.  But be warned:  your family may continually ask you when dinner will be ready because the aroma coming from the kitchen will be mouth-watering.
Bourbon and Brown Sugar Flank Steak
You won't believe how easy it is to prepare a very fancy holiday meal featuring a bourbon and brown sugar flank steak.  Prepare the steak with a marinade overnight, and the next day you'll have a delicious piece of meat ready for the grill.  Serve with mashed potatoes and chives or select your family's favorite side dishes.
Roasted Leg of Lamb
Make 2020 the year you discover a new family favorite!  Roasted leg of lamb may sound challenging, but its really quite simple.  Typically you'll want to start with a 5 to 6 pound trimmed bone-in leg of lamb that you will coat with a number of household spices and Dijon mustard.  Next, the meat should be roasted in the oven for about an hour and a half.  Serve with your favorite roasted vegetables for a hearty family dinner.
Place Your Pre-Order Today!
Reserve your holiday favorites, or go with a non-traditional holiday meal.  We can set you up with locally sourced meats for all of these recipes, or a traditional turkey if you choose.
Give us a call at 541-830-3369 or stop by in person to place your order.  Our staff at The Butcher Shop is ready to help you create a Thanksgiving dinner your family will talk about for years to come.