Slow Cook Roasts
A slow cooker is one of the best appliances for those who lead a busy lifestyle. You can pop in a good cut of meat and add a few vegetables and seasonings along with a little liquid first thing in the morning. By the time you get home at the end of the day, you'll have a finished dish ready to put on the table. Southern Oregon is home to many farmers who grow local produce to go along with your roast, including corn, squash, peas, and pumpkin. Before you grab your slow cooker and head to the kitchen, you need to know what type of meat to use.
Best Meats for Slow Cookers
Slow cookers are great for tough cuts of meat that you usually need to cook for hours to make tender. All you need is a little bit of liquid to penetrate the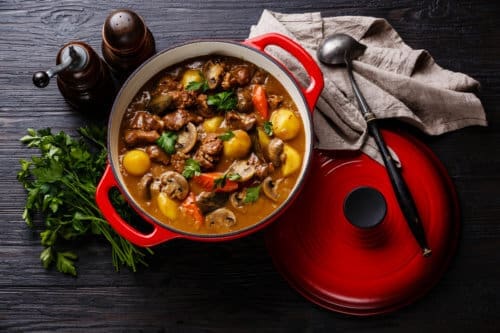 meat. While some love using beef or vegetable broth, you can also add a few cans of soup or a couple of bottles of your favorite soda or beer. One good option is pork shoulder, which you might see sold as a pork butt. After it cooks for a few hours, the pork becomes so tender that it falls apart when you touch it and easily pulls away from the bone. Pork shoulder is the best meat for making pulled pork.
Chuck roast is another nice type of meat to cook in a slow cooker. Not only does it become incredibly tender, but the finished dish might remind you of the pot roast that your mother or grandmother made. Chuck roast pairs nicely with both potatoes and carrots. You can add a few onions or any other vegetables that you like. The roast becomes even more tender when you add an acidic liquid to the mix such as red wine.
If you love beef but aren't a fan of chuck roast, you can try recipes for slow cook roasts that use beef brisket. Though many know beef brisket as a smoked dish, it works equally well in a slow cooker. The slow and low cooking produces a roast that is juicy and flavorful. You can also try bottom round roast. Lamb shank and beef short ribs work well in a slow cooker too. Both of these cuts work well with fresh vegetables.
Creating the Perfect Slow Cook Roasts
Whether you're in the mood for a delicious roast or a hearty stew on a cold Oregon night, you'll want to add a personal touch to your slow cooker. There are plenty of vegetables that you can add to the pot to make a complete meal. Any type of liquid will work with the best meats for slow cookers, including soda, wine, and broth. Have fun creating a new dish that you and your family will love with vegetables grown right in the state. Corn and peas or potatoes and carrots add even more flavor to your roasts. Find all the delicious meats and yummy vegetables that you want at The Butcher Shop.