How to Cook Duck Breast
Duck is succulent and delicious when cooked in all the right ways. There are many different ethnic approaches to cooking duck, and each has its own mouthwatering and tantalizing methods. For example, Mandarin duck or Peking duck in Asian cuisine fries and roasts duck before slicing it and tossing it in a sauce or marinating it. Confit de Canard is a traditional French recipe that literally translates into "fat of duck" and means that the duck is fried in its own fat for the most flavor you can get.
If you have never tried duck before, or you're eager to eat it again, you might be wondering how to cook duck breast or cook duck in general. The fact that duck comes with its own layer of fat actually makes cooking it very easy to do. Simple steps for cooking duck breast at home are as follows.
Grilled Duck with an Herb Rub
It's still warm outside in most of the country this time of year, which is why grilling your duck is ideal. To start, you want to either buy a ready-made rub for duck or mix your own. If you mix your own, you will need rosemary, thyme, salt, black pepper, crushed bay laurel leaves, and a little orange zest. Since it's a rub, your seasonings should all be dry and not fresh. A tablespoon of olive oil or vegetable oil will aid you in rubbing the seasoning mix all over the duck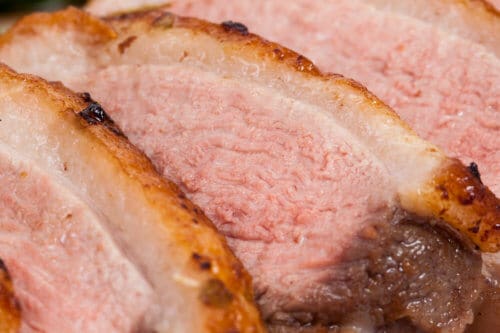 breasts.
1. Make sure you select duckling breasts and not breast meat of older ducks. The duckling breasts will be smaller, but they will also be less chewy and very tender.
2. Score the skin of the breasts lightly. Cuts should not sink too deep into the natural layer of fat on the duck breasts. You should never remove the skin or the fat either when cooking this meat as it will cause the meat to become overcooked and lack flavor.
3. Lightly pan sear the duck breasts with a little butter. You don't want to cook the breasts; just give them a little head start on the grill cooking so that the breasts are neither overcooked or undercooked on the grill.
4. Rub the seasoning mix and oil all over the duck breasts, both sides, to get a good flavor distribution.
5. Place the breasts on the grill and close the lid of the grill to cook the centers of the breasts. Two minutes is sufficient but check with a meat thermometer just to be sure. The temp should read a minimum of 160 degrees, the safe temperature to consume meats.
6. Turn the breasts over and cook another two to four minutes. The fat of the breasts should be crispy and golden and the meat just slightly pink. You can cook them longer, but you don't want to overcook duck!
7. Remove the breasts and let them sit a few minutes before slicing. Serve sliced over wild rice, cubed, mashed or julienned potatoes, etc..
Where to Buy Your Duck and Veggies
The Butcher Shop offers premium fresh vegetables and the best duck breast you can buy. visit the shop today and give duck breast a try at home tonight.