How to Make Grilled Basil Chicken and Tomatoes
Healthy meals don't have to be bland. This recipe takes sizzling chicken breast and smothers it in a rich marinade of olive oil and spices, then finishes it off with freshly grilled tomatoes. It's the perfect meal to enjoy on a summer's day when the sun is shining and you feel like eating outside. The chicken is leaner and healthier than other meats, but still hearty enough to be filling. If you're trying to get more nutrients in your diet, this recipe is a delicious way to enjoy your vegetables and protein.
How to Make Grilled Basil Chicken and Tomatoes
Making grilled basil chicken and tomatoes are so simple that anyone can do it, regardless of your skill level in the kitchen. Simply soak the chicken in the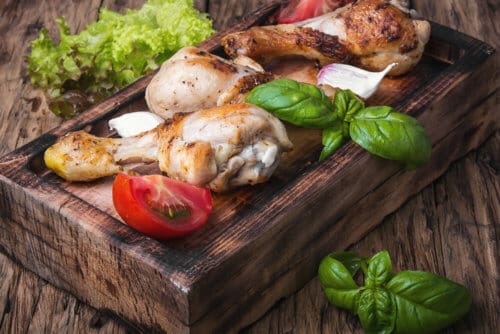 marinade, throw it on the grill and enjoy! This recipe is great for a healthy backyard barbecue that's free of grease and fat.
Once you've mastered this dish, you can start experimenting with different marinades. But if you're new to the world of grilled chicken, we recommend sticking with this tried-and-true recipe. It's one of our favorite marinades, and we think your family will love it as much as we do!
Grilled Basil Chicken and Tomatoes Ingredients
4 skinless chicken breast halves
8 plum tomatoes
1 minced garlic clove
3/4 cup balsamic vinegar
1/4 cup basil leaves
2 tablespoons olive oil
1/2 teaspoon salt
Directions
1. Place the garlic, balsamic vinegar, basil, olive oil, and salt in a blender. Cut four of the tomatoes into quarters and add them to the blender, then blend the ingredients until smooth.
2. Pour 2/3 cup of the marinade in a bowl and add the chicken, then let the chicken soak in the marinade for an hour. Turn the chicken occasionally to make sure both sides are evenly coated.
3. Grill the chicken over medium heat until the internal temperature reaches 165 degrees. Slice the rest of the tomatoes in half and grill them alongside the chicken until the tomatoes are lightly browned. Transfer the chicken and tomatoes to the plate and drizzle with the rest of the marinade.
Where to Buy Fresh Ingredients
Whether you're cooking for yourself or preparing a meal for the whole family, you need fresh, delicious ingredients from The Butcher Shop. We offer boneless skinless chicken breasts that are ready to be marinaded and grilled, as well as flavorful tomatoes, fresh spices, and everything you need to make a wide variety of meals.
Our meats are 100% organic and sourced from natural farmers. We have an extensive meat selection that includes chicken, beef, pork, sausages, and lamb as well as fresh seafood. Stock your freezer with our high-quality meat products, and round out your meals with some fruits and vegetables from our grocery section. Visit us today and see what your homecooked meals have been missing.