Chicken cordon bleu is a delicious and fancy-sounding dish that's a snap to make.
Cordon Bleu: The Origin Story
Cordon bleu's gastronomic roots sprouted in Brig — a postcard-perfect alpine village in southern Switzerland. According to culinary legend, the dish sprung into existence because of a reservation snafu. Two large parties arrived at a Brig restaurant on the same evening, and both claimed they had reservations.
Instead of turning one of the parties away, the ingenious chef butterfly sliced the available chicken into thin schnitzels, added Swiss cheese and ham, rolled them up, and then breaded and fried them. Voila! She had turned the limited amount of chicken into double the number of meals, and guests raved about the result.
The restaurant owner was so pleased he offered her a "cordon blue" ribbon, denoting the highest culinary honor. A modest woman, she turned down the personal praise, but suggested they name the dish "cordon bleu."
How to Make Cordon Bleu
Cordon bleu is easy to make, but it may take a few practice runs to reach aesthetic heights. Regardless, even attempts that don't look Bon Appétit-ready still taste delectable.
Cooking Chicken Cordon Bleu
Cordon bleu can be made with a variety of meats. Chicken is the most common, but some folks opt for veal instead. Traditionally, Swiss and ham is the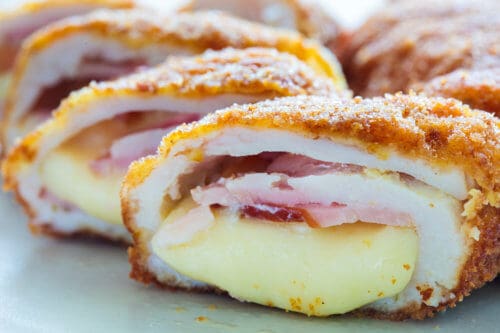 classic cordon bleu stuffing, but incredible flavors can be rendered by swapping Jarlsberg or cheddar for the cheese and bacon or prosciutto for the inner filling.
Start by slicing the main meat into cutlets and pounding them out for easy rolling. Next, place a layer of ham and cheese atop the slices, roll the whole thing up and secure with toothpicks. Drench the rolls in a mixture of beaten egg and milk; it acts as glue for the breadcrumbs and adds flavor. Then, cover the cordon bleu rolls in breadcrumbs and fry them up. That's it!
If you're not a fan of fried food, bake the dish in the oven for about 50 minutes at 350 °F.
Top it off with a savory sauce of your choosing — Hollandaise, creamy Dijon, or Bearnaise are popular — and serve with a side of freshly steamed vegetables.
How to Make Your Cordon Bleu Spectacular
Are you looking to dazzle diners at an upcoming dinner party? Use fresh ingredients! Foodies aren't snobby for seeking out the freshest meats, veggies, and cheeses, using them just makes everything taste better! To find the good stuff in southern Oregon, head to the Butcher Shop. Their commitment to quality is unmatched, and their products transform meals from good to great!