Who was the Benedict in Eggs Benedict?
According to accounts, it was either Lemuel Benedict or Commode E.C. Benedict. Lemuel Benedict, an ex-Wall Street broker, needed something to ease his hangover. So he went into the Waldorf Hotel and ordered most of the ingredients that are now found in the contemporary dish. As for Commodore Benedict, the dish was whipped up by Edward P. Montgomery and named after him. Whatever is true, a slice of Canadian bacon, a poached egg, and hollandaise sauce on a toasted English muffin is just the thing for a special breakfast or brunch. This recipe serves four:
Ingredients for Eggs Benedict
4 poached eggs
Hollandaise sauce
2 English muffins, split
4 slices of Canadian bacon, cottage bacon, or ham.
Paprika
Chives or parsley
First, you'll need to make the Hollandaise sauce. It is true that you can buy some of that powdered Hollandaise sauce, but homemade is better.
1/2 cup room temperature butter, cut into pieces
3 egg yolks, beaten
1 tbs. water
1 tbs. lemon juice
Dash of salt
Dash of white pepper
Using the top part of a double boiler, mix the egg yolks with the four following ingredients. Add a bit of the butter, and whisk until it melts and the sauce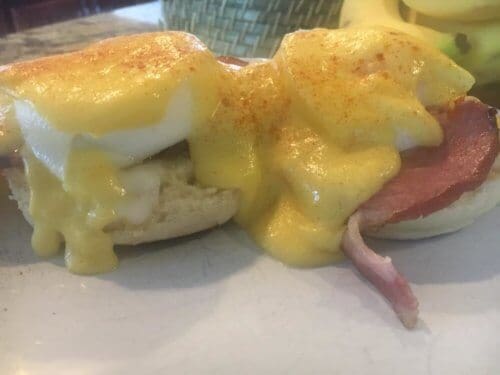 starts to thicken. Add the remainder of the butter a piece at a time, whisking constantly until the butter is melted, and the sauce thickens. You'll know it's ready when the sauce sticks to the back of a spoon. When that happens, take it off the heat immediately.
Now, poach the eggs.
Half fill a pot with water. Bring it to boiling then reduce it to a simmer. Add about a teaspoon of white vinegar. Break an egg, then slide it carefully into the simmering water. Gently sweep the egg whites over the yolk until they have set, and the yolks are thick but not hard. Then, remove the eggs with a slotted spoon, and put them in a pan of warm water.
Turn on the broiler. Place the muffins on a baking sheet and broil cut sides up until they're toasted, which should take about a minute. If you have one of those toasters that can accommodate a split English muffin, you can use that too.
When the muffins halves are toasted, top each one with a slice of cottage or canadian bacon. Pop them back under the broiler for another minute until the bacon is heated.
To serve, top each slice of cottage or canadian bacon with a poached egg. Then, spoon the hollandaise sauce over the egg. Sprinkle with paprika and chives or paprika and parsley, and enjoy.
Contact Us
Our professionals at The Butcher Shop are pleased to offer you the ingredients you'll need for your most memorable eggs benedict. We not only sell Canadian bacon or cottage bacon for your eggs benedict but we also carry local grass-fed beef and locally sourced pork, lamb, seafood, and more, including bacon with no nitrite or nitrate. Be sure to visit us in our Shasta Avenue shop or give us a call at 541-830-3369.